On January 11, 2011, Peter Lik announced via a press release that an anonymous art buyer had purchased a print for $1 million dollars. This was Lik's first million dollar sale. The photo was aptly named, "One". Since this art sale was a private transaction we can only speculate as to what led a collector to pay that much for the print. My educated guess is that the limited edition of 1 had something to do with it. When you have limited supply and multiple affluent buyers vying for the artwork then oftentimes the purchase price can range from hundreds of thousands of dollars to millions of dollars. The sale of Peter Lik's Phantom ($6.5 million) in 2014 was also handled in a similar manner. On the other hand, since this was an anonymous sale as opposed to a public art auction where million dollar photos are typically sold so we won't ever know for sure what the dynamics were. What is obvious however is that fine art photography prints are worth spending money on and that there are a number of collectors out there seeking out this kind of artwork.
Where Was Peter Lik's One Photographed?
Peter Lik's One was photographed along the banks of the Androscoggin River in New Hampshire.
What Style of Artwork is Peter Lik's One?
Peter Lik's One can be described as impressionist or abstract nature photography. The composition consisted of fall foliage reflected in shallow water.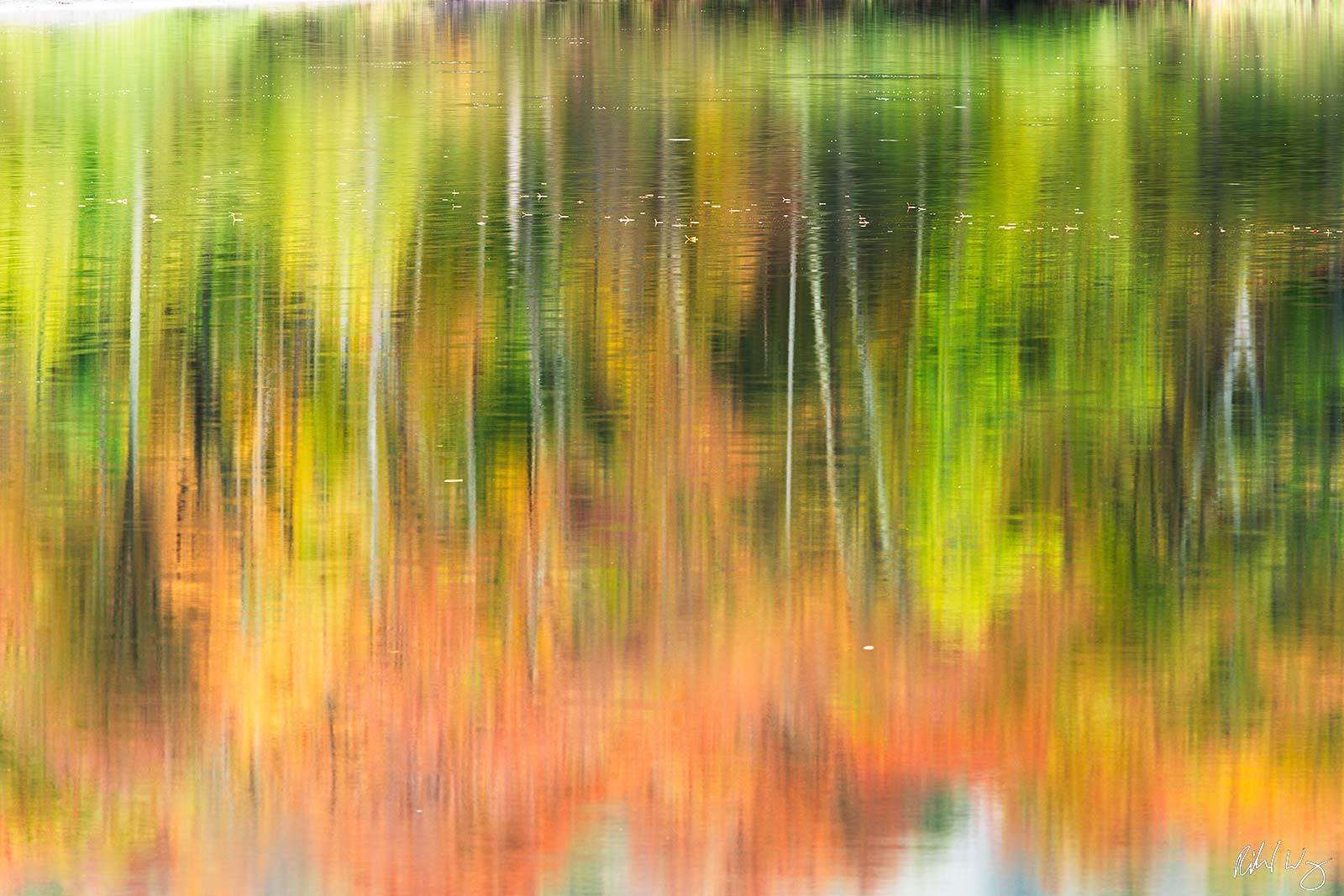 Where Can I Find Similar Style Fine Art Photography?
Richard Wong Photography has a number of abstract impressionist fine art photography prints for sale. This is one of my favorite themes to photograph. In addition to this I also have a much larger body of work on my website with hundreds of premium fine art landscape and nature images to choose from.
I offer Lumachrome HD TruView acrylic face mount prints which is a similar process to the acrylic face mounted Fuji Flex prints that Peter Lik offers. Lumachrome prints benefit from having a wider dynamic range and being able to render the entire red color gamut which is something that all Fuji papers struggle with. TruView acrylic is a museum-grade acrylic that minimizes glare without any tradeoff in clarity and is more scratch-resistant than regular acrylic or plexiglass. As a result, my prints can appear to be backlit when displayed under gallery lighting and certain types of ambient light. If you're looking for artwork that adds joy to your life and that lasts for a lifetime then feel free to reach out to me. I'll work with you to find the right artwork to suit your needs.