2021 was a much more memorable year for me than 2020, though I'm sure that was probably the case for most people. My family and I went on a road trip to the Oregon Coast in April to celebrate our anniversary. I also photographed Napa Valley & Sonoma Wine Country a number of times throughout the year. We also spent some time exploring California's Central Coast where we always enjoy visiting. Most notably, I bought a DJI Air 2s drone and became a FAA Part 107 certified remote pilot. Regarding drones, in order to legally fly a drone in the US you have to be certified by passing the Part 107 exam unless you're flying purely for "recreational use". If I'm posting drone photos on a site like this, I could get fined if I'm not certified. Since I want to be legit and do more creative work with aerial photography it made sense to study and get my Part 107 certificate.
On a professional level, my web traffic doubled over 2020 as did my sales (+120% YOY) for the third year in a row. (hopefully the # times that people copy my content won't continue growing at the same rate...) I actually surpassed 2020's sales total in May. I also quit the last remaining stock photography agency that I participated in. I had been with this one since 2005 but quite frankly have no use for agencies anymore at this point. The only way to grow is to represent yourself. As with the prior two years, I submitted some images to top photography contests. Salt Point, one of the few images I made in 2020, received a Bronze medal from the Prix de la Photographie, Paris (PX3). I was also invited to join Matt Payne's popular F-Stop Collaborate & Listen podcast for an episode titled, "Is There a Diversity Problem in Landscape Photography?"

Fun Stats
Web Traffic by Channel
Organic Search (81.1%)
Direct (10.7%)
Referral (4.1%)
Email (1.9%)
Social (1.4%)
Paid Search (0.8%)
Traffic by Device
Desktop (56.1%)
Mobile (41.4%)
Tablet (2.5%)
Ten Most Viewed Photo Galleries
Ten Most Viewed Photos
Five Most Read Blog Posts
Here are the photos that I enjoyed making the best in 2021 sorted in chronological order: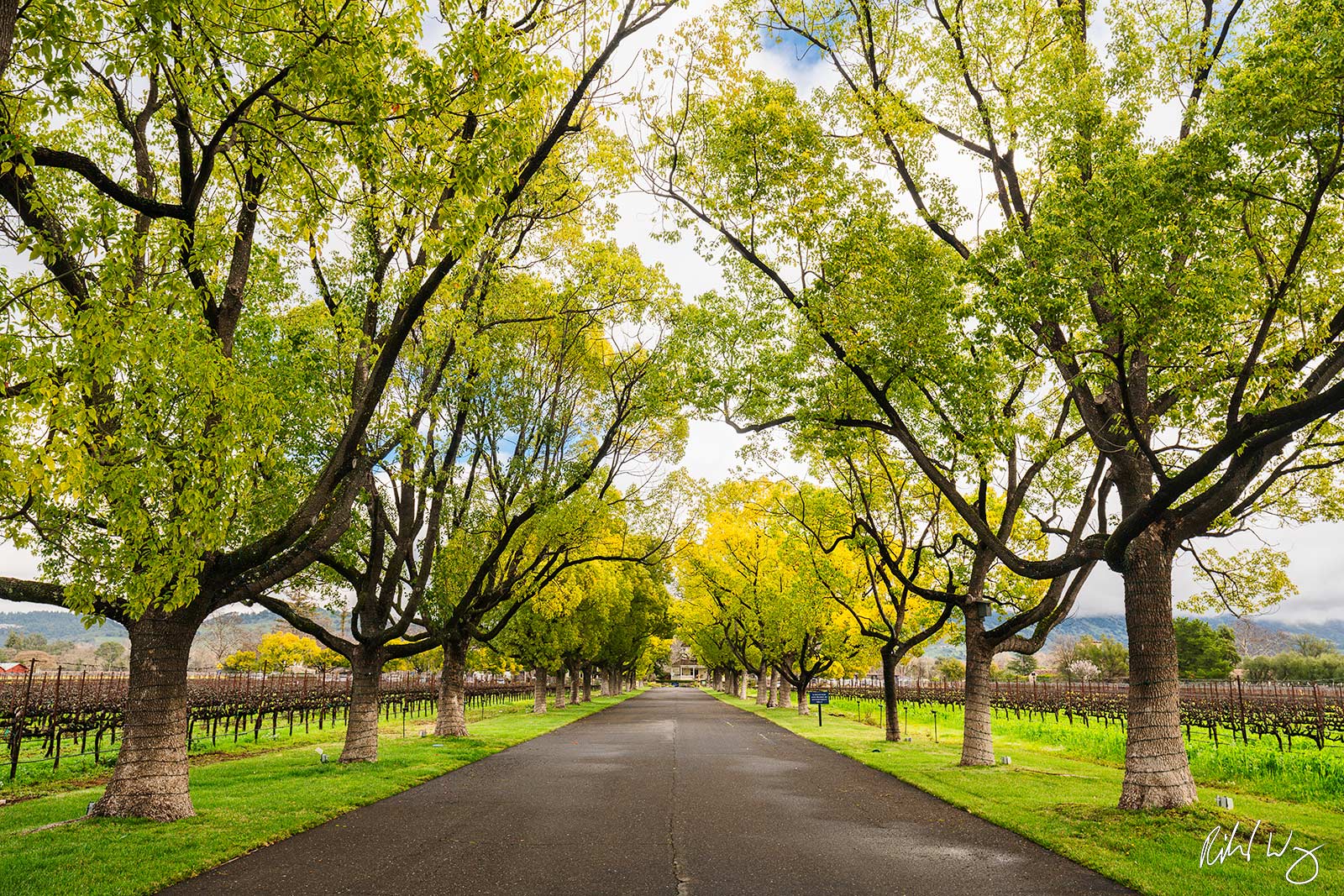 Early in the year, my son and I went to photograph the mustard blooms in Napa Valley after a morning rain storm. The wet, overcast conditions made for some lush photographs. This was still before vaccines were widely available so most people were still working remotely which made for a pleasant drive during the weekday morning commute hours. Imagine how much time we could get back in our lives if we weren't stuck in traffic all the time? Working remote is better for traffic, better for the environment and better for sanity.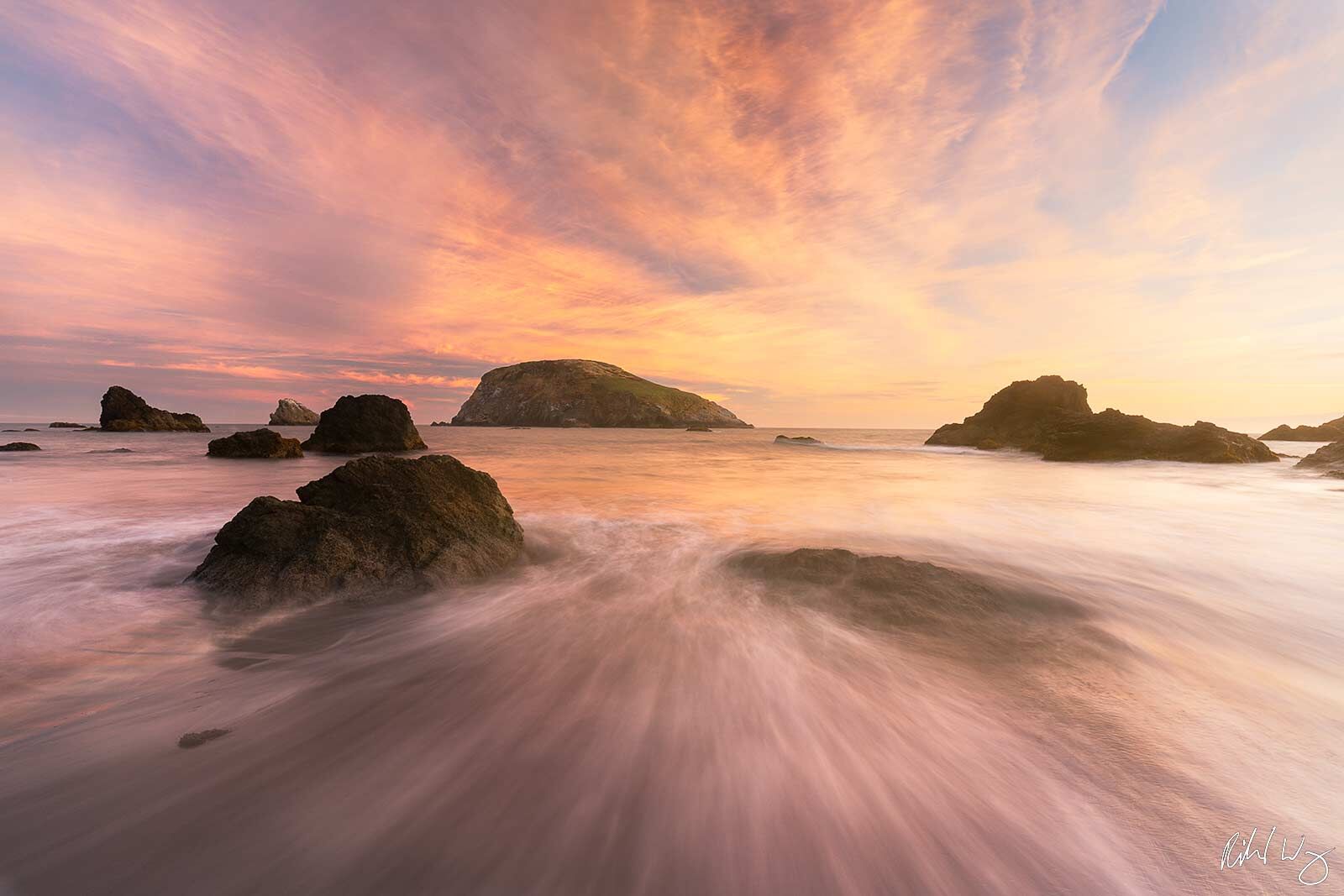 I had been wanting to explore the southern Oregon coast for years now and finally made the drive this past spring. My family and I stayed at beachfront properties in Brookings & Bandon during this trip which made for very convenient beach access. Unlike most photographers, I prefer shooting at sunrise these days for several reasons. The first of which, there is rarely any other photographers out at these hours and secondly, it's less stress on myself and the family when they're all asleep.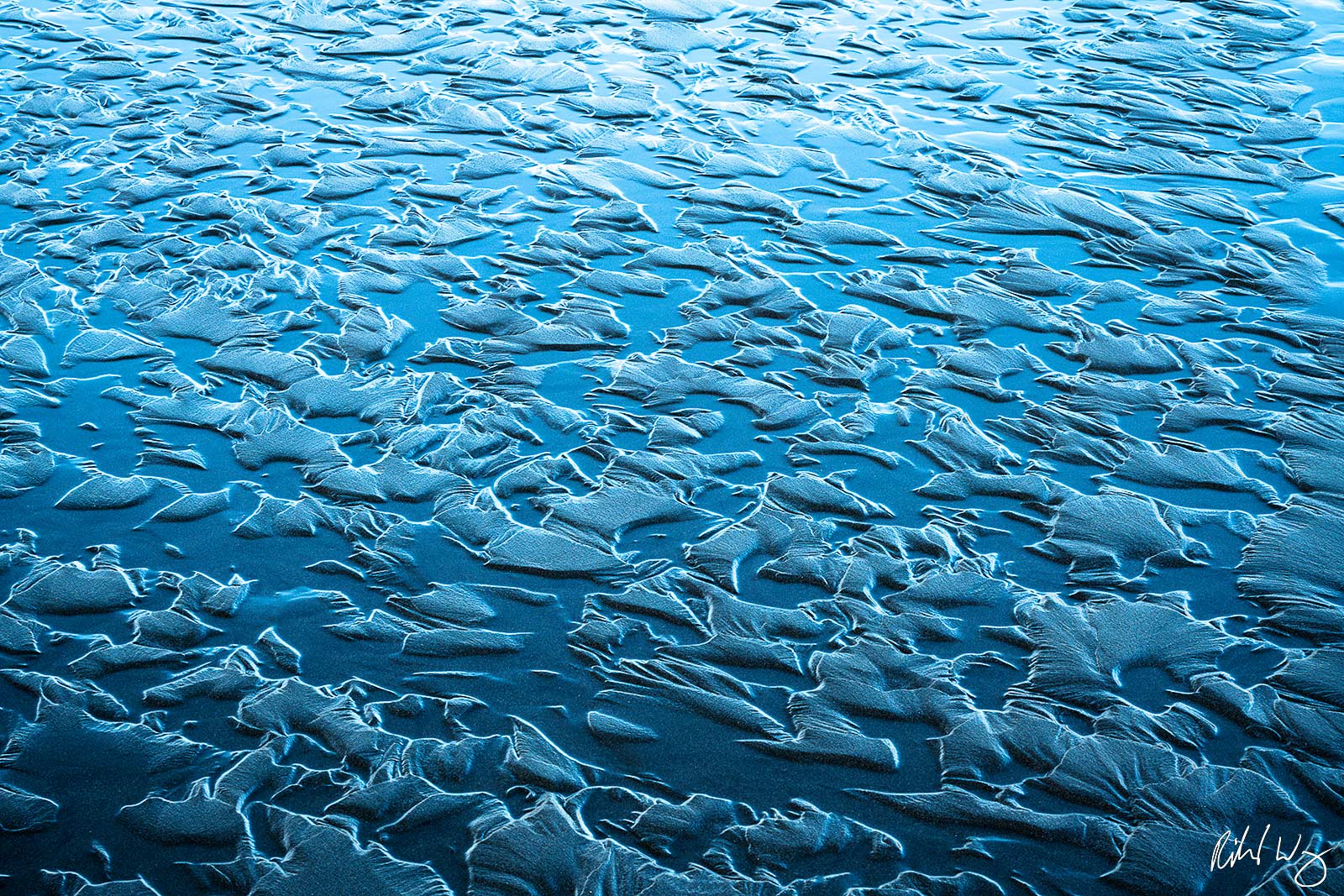 On the way back to the car after my morning photoshoot, I noticed the receding tides had interesting shadows so brought out my 70-200mm lens and focused on some abstract nature photography. Unfortunately I charged the wrong batteries the night before and only managed a few frames before running out of charge. I came away with what wanted at least!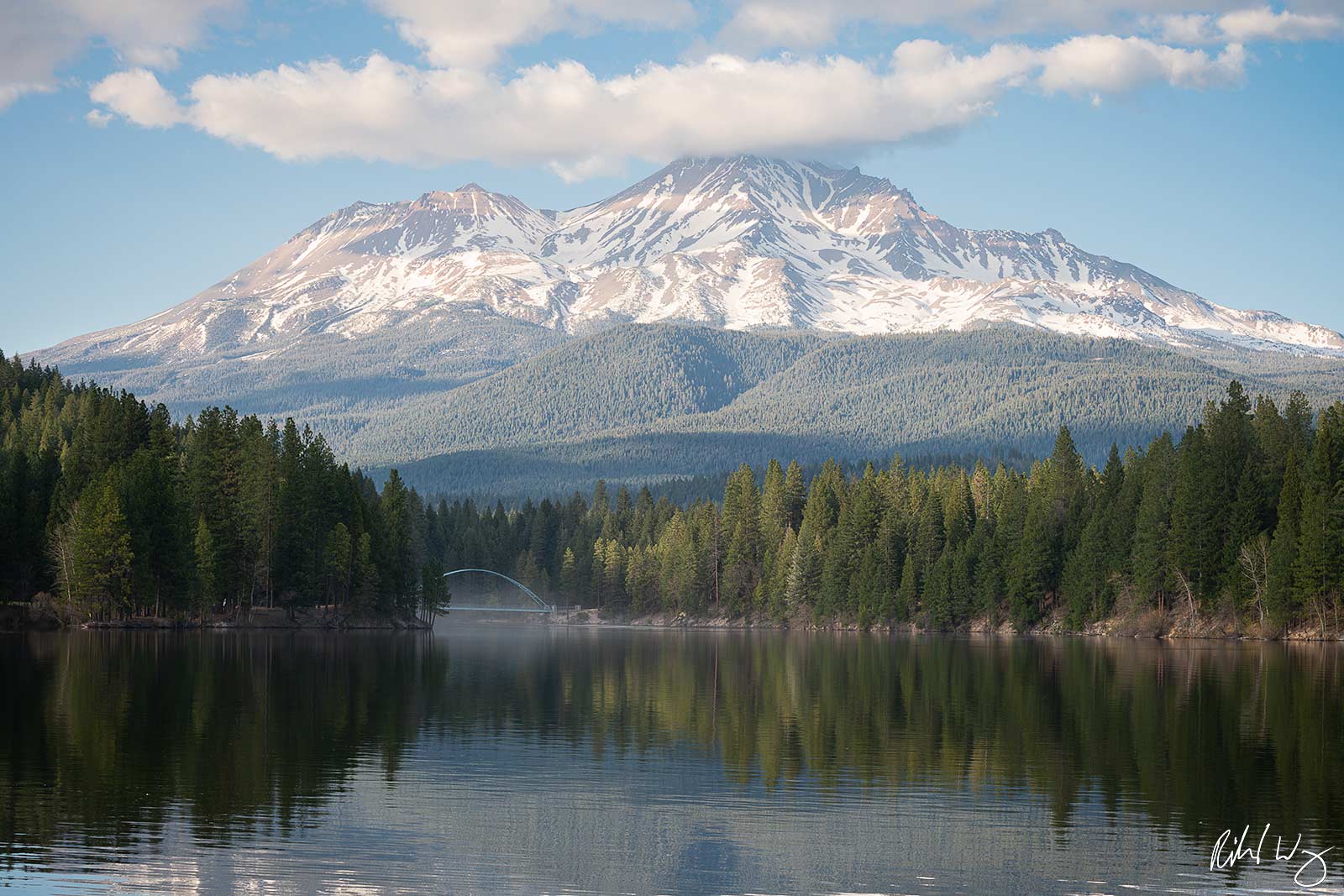 On the way home from Oregon, we overnighted in Mount Shasta. We celebrated my wife's birthday in 2020 by staying at a cabin along the shore of Lake Siskiyou but it was right in the middle of wildfire season so we couldn't actually see Mount Shasta at the time. On this visit, we stayed at the same cabin and were able to enjoy the views finally. The Shasta-Cascade region is underrated in my opinion.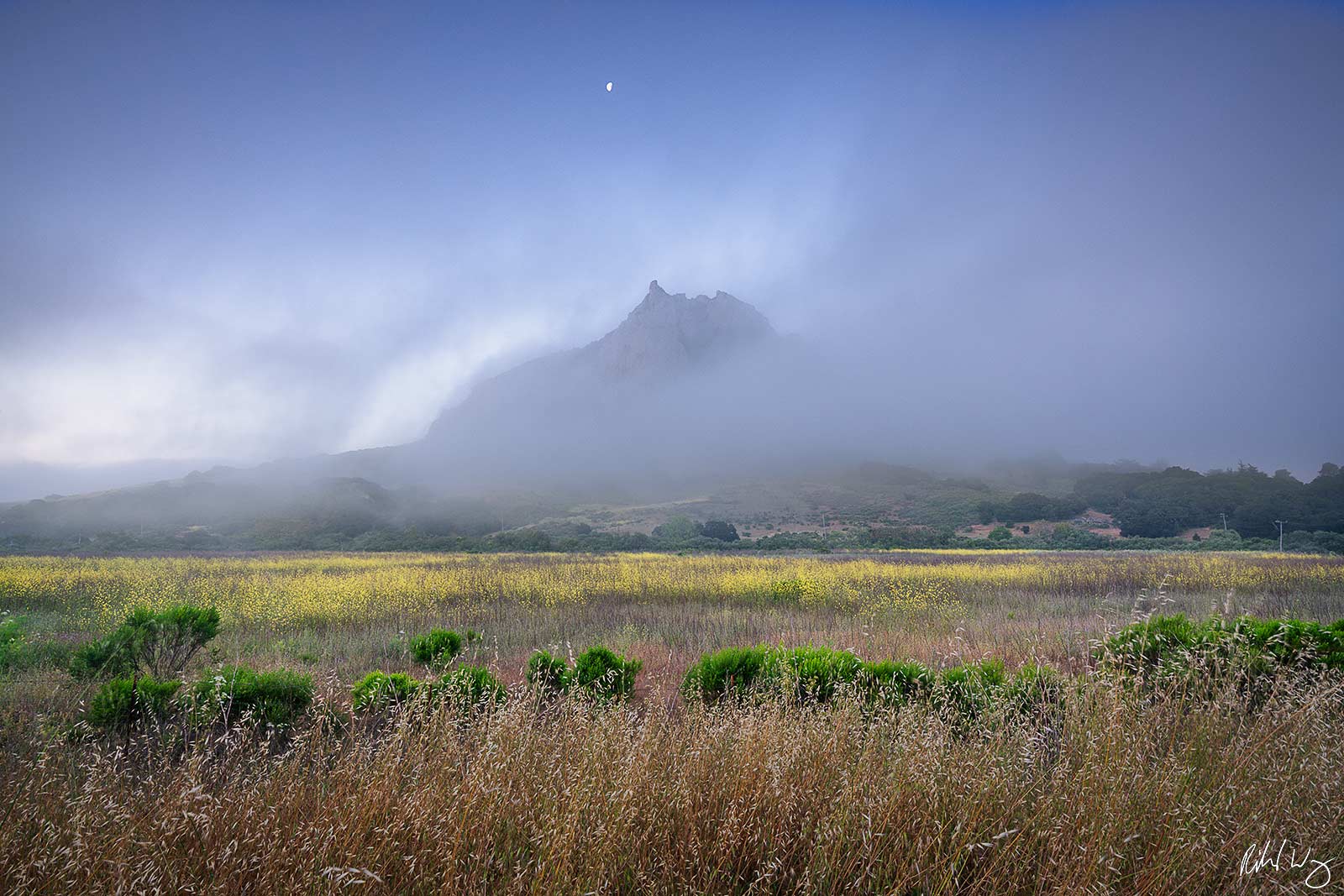 The most challenging aspect of photographing the California Coast is the persistent fog. You could have sun in the forecast all week and yet not see a sunrise or sunset all week due to the offshore marine layer that rolls in as the weather cools off. Having struck out the morning before at Morro Bay, I saw similar prospects on this morning so I recalled seeing an amazing sunset the previous night while driving back from dinner in San Luis Obispo so I headed off in that direction at the crack of dawn. I didn't have time to scout for locations so I drove around along several rural roads before deciding upon this location right before the fog completely obscured Hollister Peak.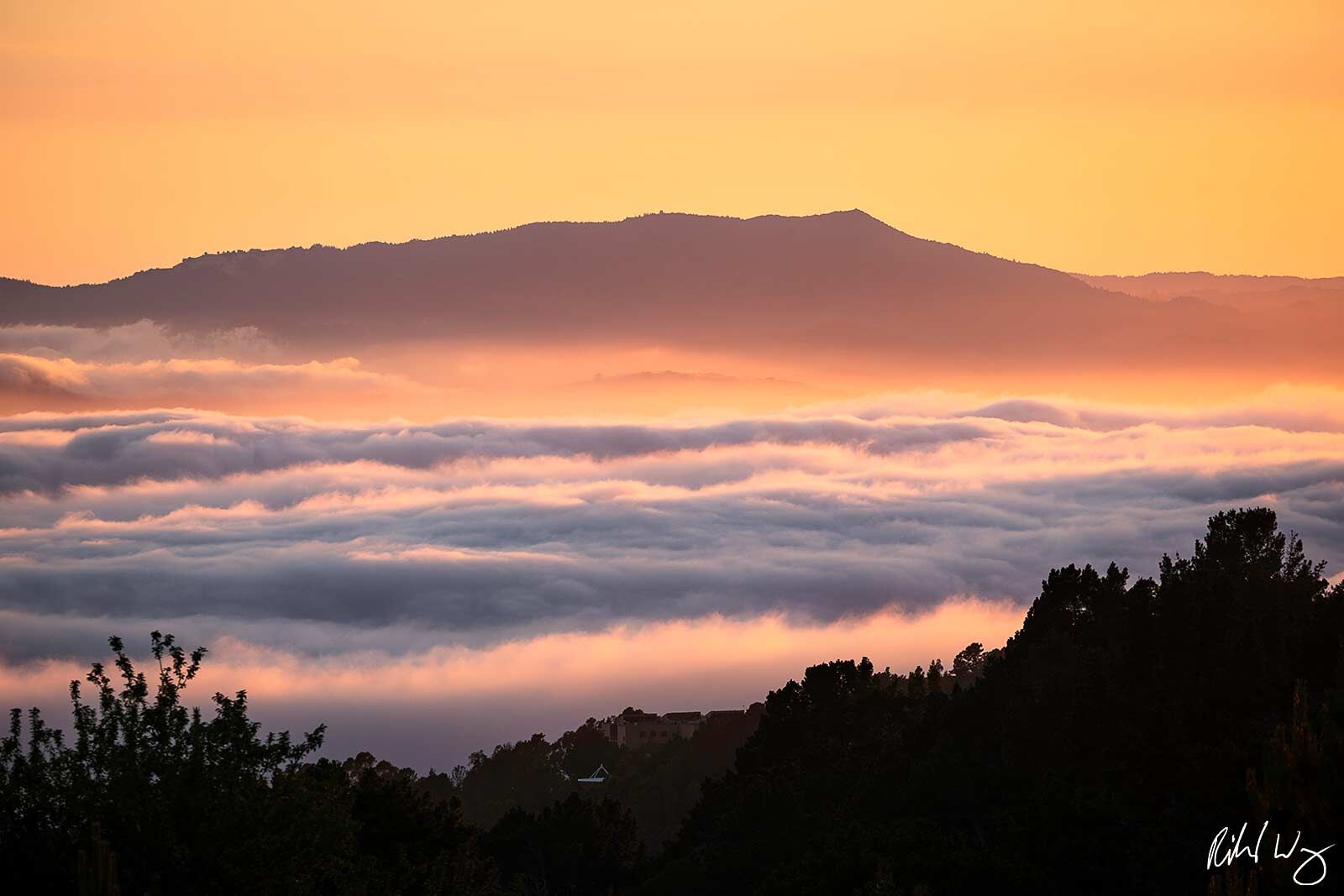 I spent back-to-back days exploring some local East Bay trails on evenings during low fog events. I had to make many different exposures in order to get a sharp frame due to all the wind. I don't think I could ever be a large-format film photographer given the long exposure times and patience that medium requires. Imagine how many photos I'd not be able to make due to wind? This image is one that wouldn't have been possible with large format. Cameras are just tools to realize my vision.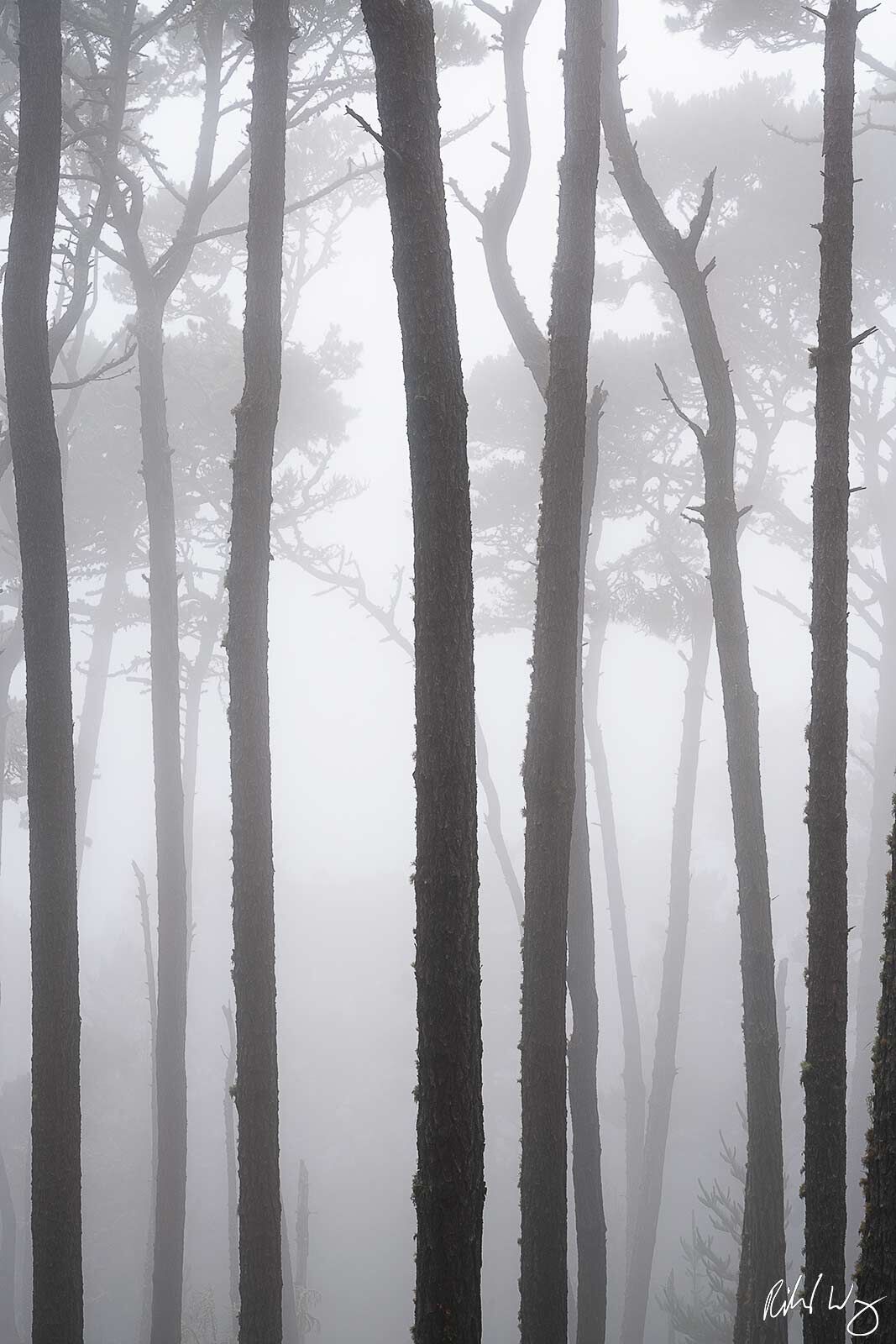 Another foggy morning along the coast, in Pebble Beach this time. I didn't want to spend the morning exploring the beach in thick fog so I drove to an area that I recalled from previous visits but hadn't photographed. The fog was so thick that I considered just returning back to the room rather than risk getting into an accident but I made it safely to the forest and spent the early morning hours looking for opportunities to simplify the chaotic forest compositions with fog.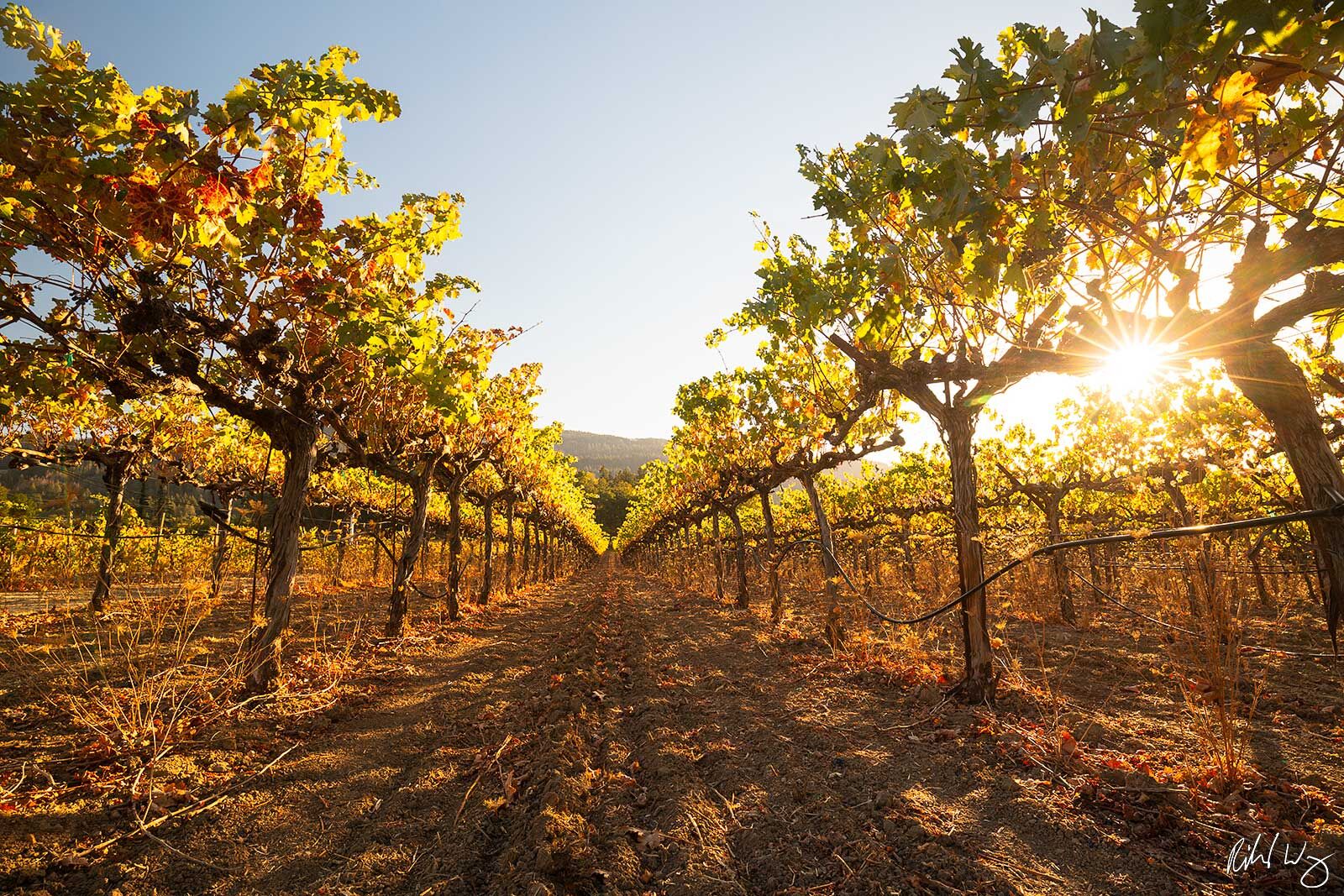 While I enjoy photographing colorful sunsets they aren't a pre-requisite for making good landscape photos. On this day I had an almost colorless sky with harsh backlighting so I chose to get as low to ground as possible to utilize the vineyards to block out the sun and occupy most of the frame. The side and backlighting here wouldn't have been possible had there been clouds in the sky.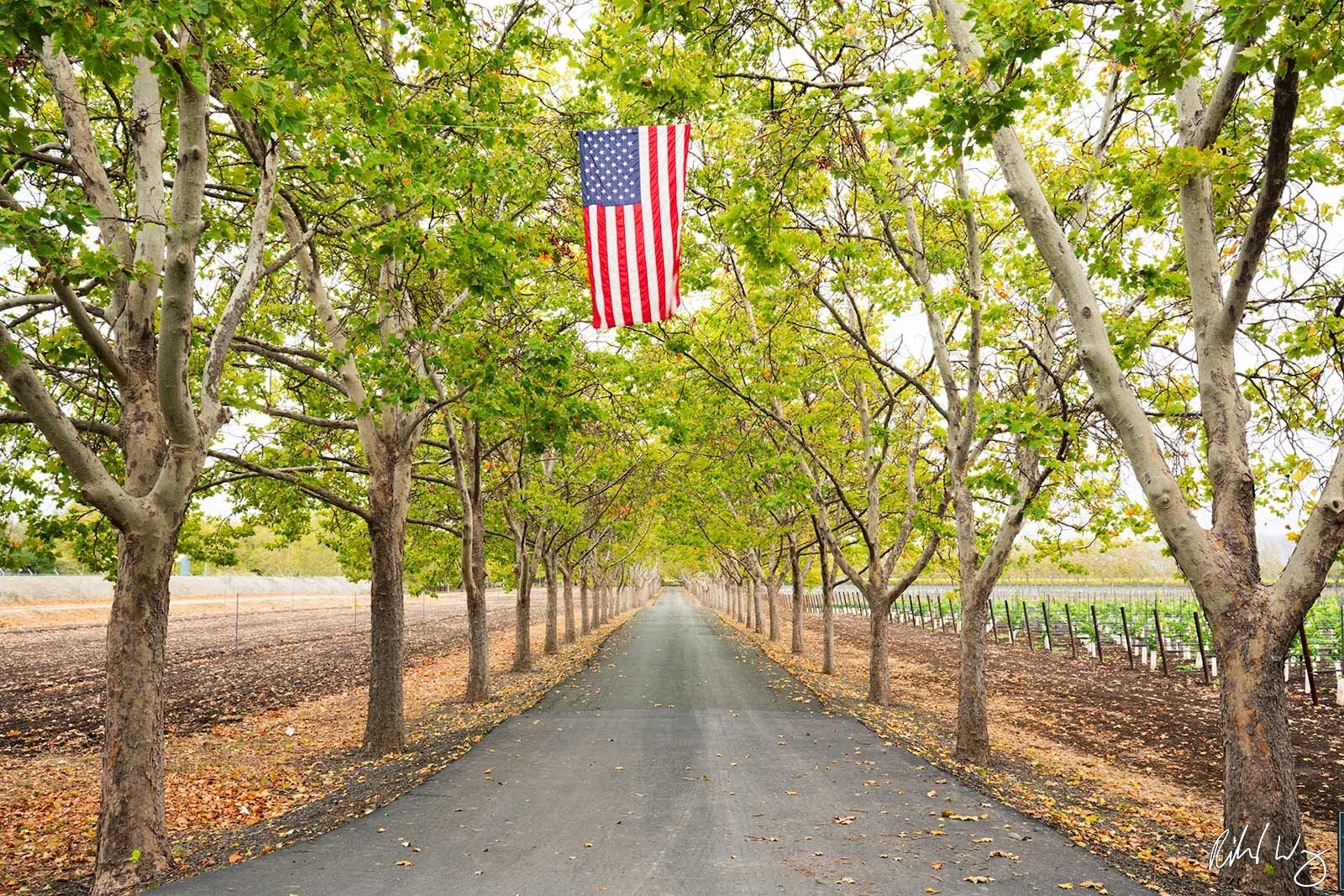 My son, Tyler, turned five years old this year so he accompanied me on a handful of Wine Country photo excursions to Napa Valley. One routine we settled into was enjoying a nice deli lunch picnic at V. Sattui Winery in St. Helena during our outings. Tyler was my photo assistant here and he was holding my lenses as I kept switching between my 16-35mm and 70-200mm Canon lenses to find the right composition.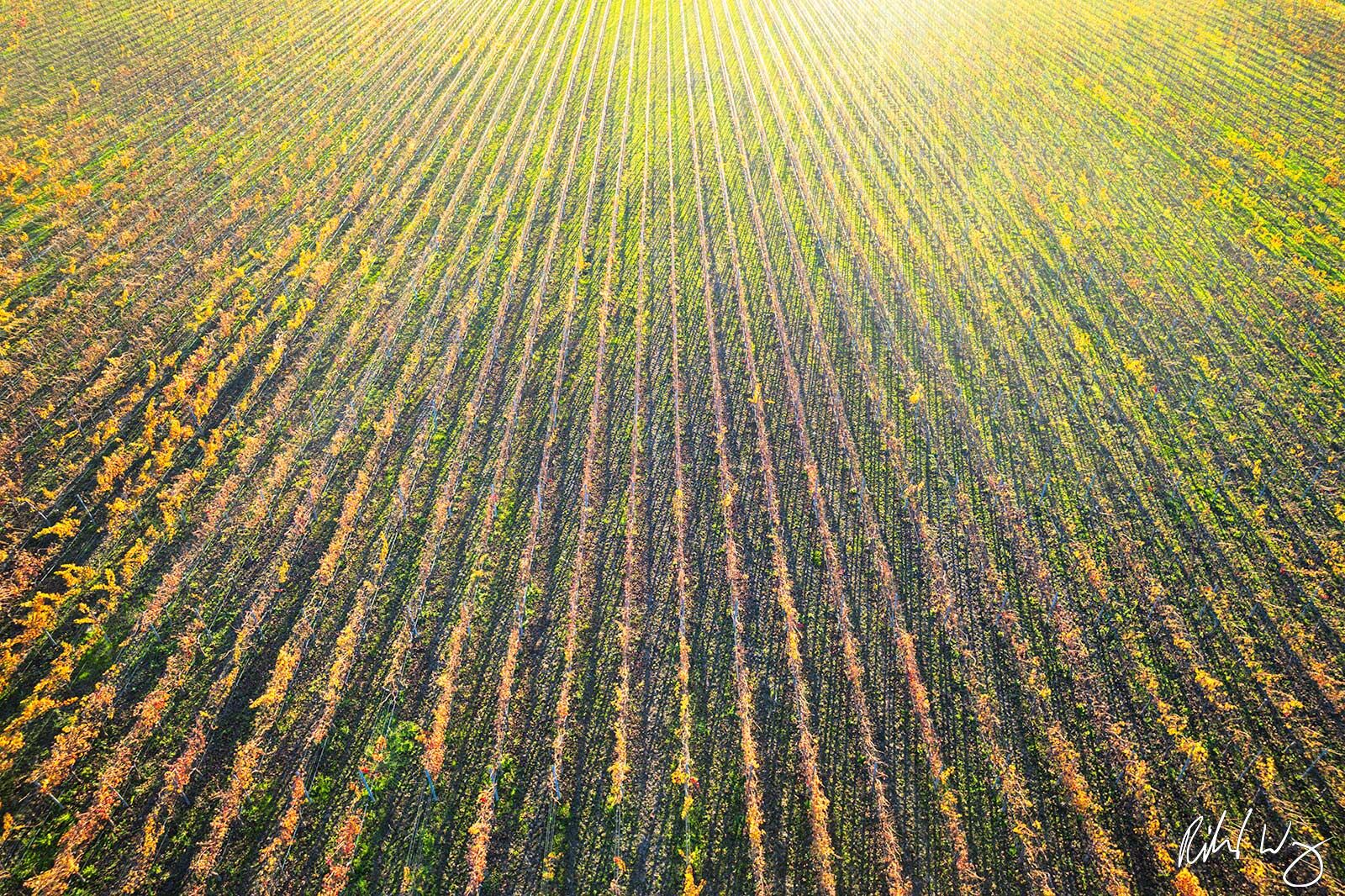 This fall season was mostly focused on flying my drone. I found new land-based compositions as well but this type of aerial photography was brand-new to me so I wanted to explore all the new possibilities. When I decided to become a certified remote pilot, one of my creative goals was to find unique aerial compositions of subjects that I'd photographed previously from the ground. Drones can really open up new creative possibilities when used responsibly.