Fine Art Photography Prints
I currently offer three types of large format museum-quality fine art photography prints for sale through my website: watercolor media prints on Canson Infinity Platine Fibre, ChromaLuxe metal edge mounts and TruLife® Acrylic face mounts. ChromaLuxe edge mounts and TruLife® Acrylic face mounts come ready-to-hang.

TruLife® Acrylic Face Mount Prints
The most luxurious of fine art prints, TruLife® Acrylic face mount prints have a 3d-like appearance due to the print being sandwiched between museum-quality acrylic and a solid backer medium. The paper is specifically made for face mounted prints and features a pearl-like luminescence. When light hits the acrylic, it refracts through the artwork and gives off an appearance of having been illuminated from within. These are the most vibrant and detailed prints I offer.
Hand-polished to perfection, these ready-to-hang prints include a 1/8" acrylic face mount with a clear acrylic or Comatex backing and a back mounted floating frame.

TruLife® Acrylic Print Features
Virtually eliminates reflections
Achieves the most vibrant colors, depth & clarity
Blocks up to 99% of UV rays
Anti-static properties repeal dust from the print
Durable hard coat protects against scratches
Shatter resistance safeguards against injury & damage to artwork
Cleans like glass. No special acrylic cleaners needed.
Proprietary coating is engineered for performance
Frame is ready to hang - I recommend using two gorilla hooks or a pair of french cleats to hang the print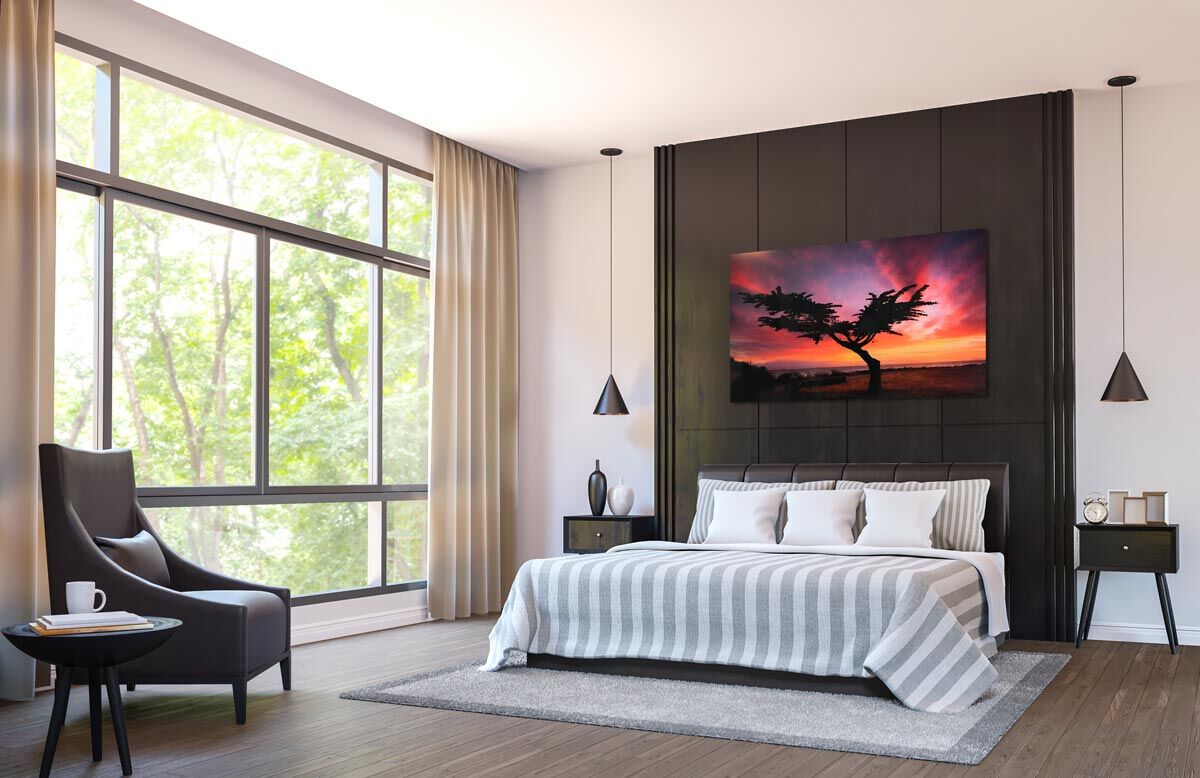 Framed TruLife® Acrylic Prints
TruLife® Acrylic face mounts are eye-catching as is but with a luxury frame it really draws the viewer's eye into the artwork. To add another level of prestige to these museum-quality prints, consider adding an external hand-crafted Italian frame with a linen liner. I offer a variety of custom, hand-crafted Italian framing options for sale. ROMA Tabacchino frames have a timeless look and are best suited for rustic or retro interiors. ROMA Ramino frames have a sleek, minimalist look and are best suited for contemporary interiors. Frames are available in several colors (Tabacchino Cigar Leaf shown here). Linen liners are available in several colors (black shown here). A ROMA Tabacchino framed 24x36" TruLife® Acrylic for example measures in at an awe-inspiring 38x50". It's impossible to walk into a room and not notice the attention to detail that has been put into my art production.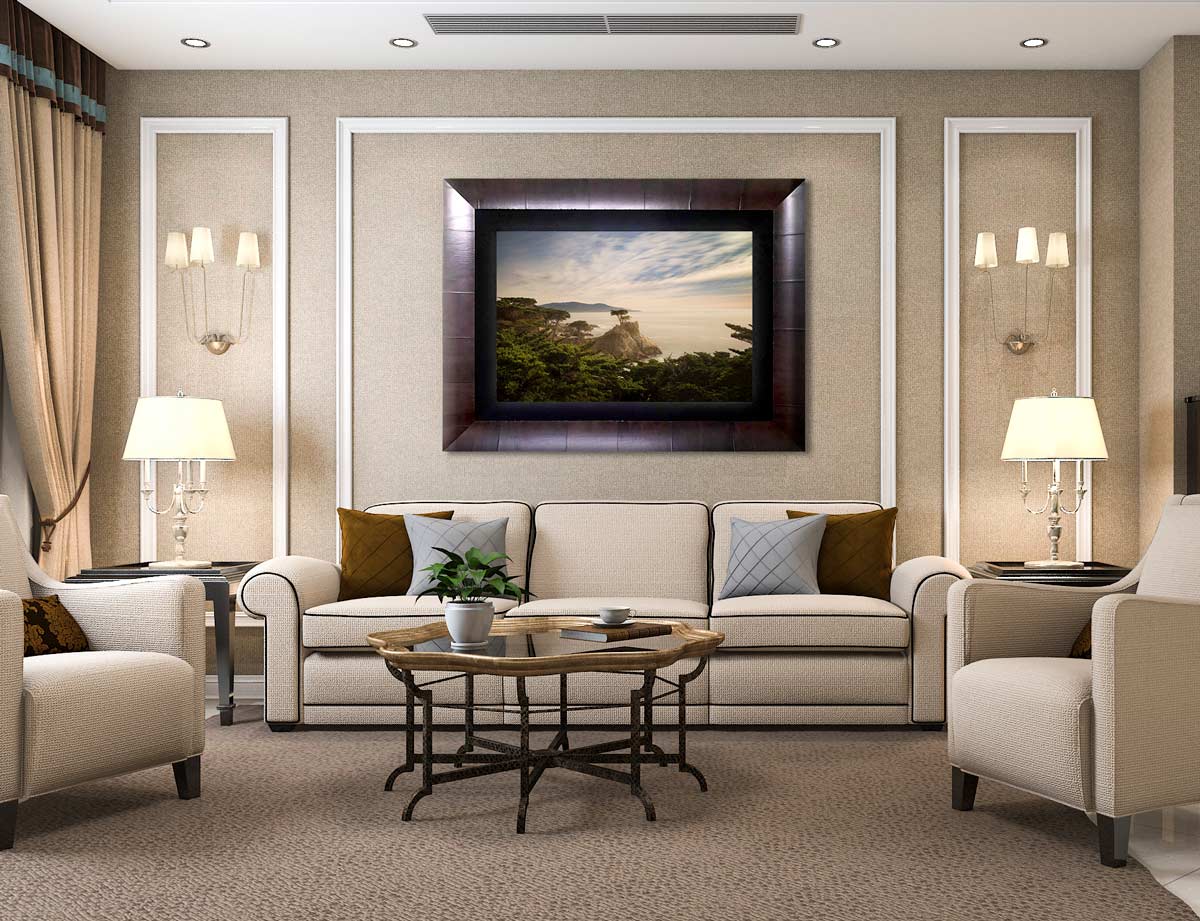 ChromaLuxe Metal Edge Mount Prints

Using a proprietary dye-sublimation process my photo is first printed onto photo paper before baked into a Chromaluxe aluminum sheet through a high-pressure thermal transfer process. By embedding the dye directly into the metal this results in a durable and weather-resistant print that is ideal for high-traffic locations including hospitals, hotels, offices and restaurants.

ChromaLuxe Print Features
Glossy finish with vibrant, saturated colors
Includes my signature backstamp with print name, size and artist name
1.3" thick flush mount frame comes ready to hang with a cleat, screws and bubble level
The most durable print substrate available. Ideal for public display areas.
The most cost-effective ready-to-hang print option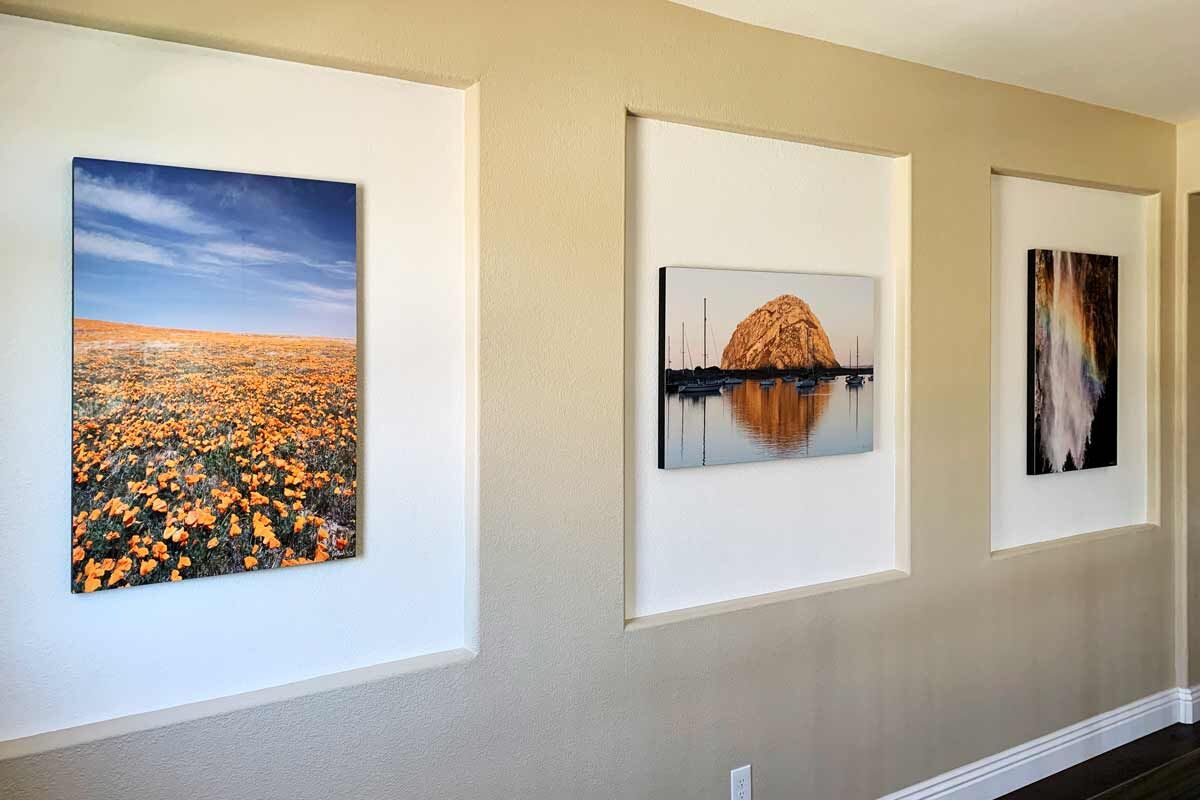 Framed ChromaLuxe Prints
If you prefer modern, external framing with your ChromaLuxe metal prints then this 2.7" floater frame with 0.5" gap makes a majestic presence with its rich black brushed anodized aluminum finish. It is sturdy enough to support the largest ChromaLuxe prints and comes with an attached hanging system. This framing option is a cost-effective alternative to my framed acrylic prints. Wood frames are also available for sale upon request.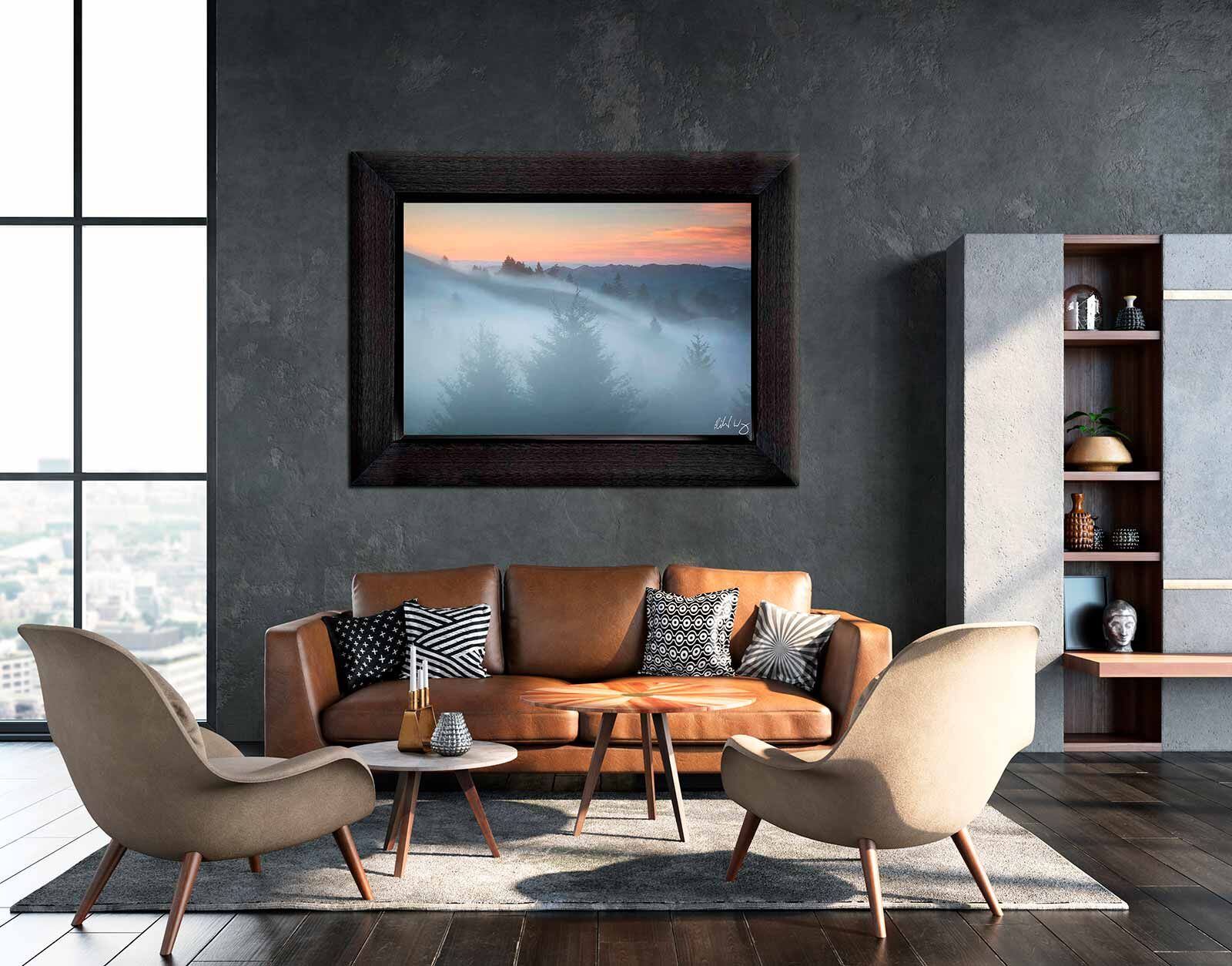 Canson Infinity Platine Fibre Prints
With a history that dates back to 1557, Canson, is a French fine art paper company that specializes in museum-grade archival materials. Legendary artists that have used these materials include Edgar Degas, Marc Chagall, Pablo Picasso and Henri Matisse. Each print features a two-inch white border around the live image area to provide maximum flexibility while framing. These prints are the ideal choice for collectors and interior designers or collectors who plan to work with a professional framer. For larger sizes of 45" and above, I personally would recommend the TruLife acrylic face mount or ChromaLuxe print options for stability however as loose prints are easily damaged if not handled properly during the framing process.
Photography Print Features
Museum-grade cotton platinum watercolor media print

Archival stability - will last 200+ years with proper storage
Rich color and deep blacks
Lustre finish to eliminate reflections
Robust paper rated at 310 gsm
Two-inch white borders around the image for easy framing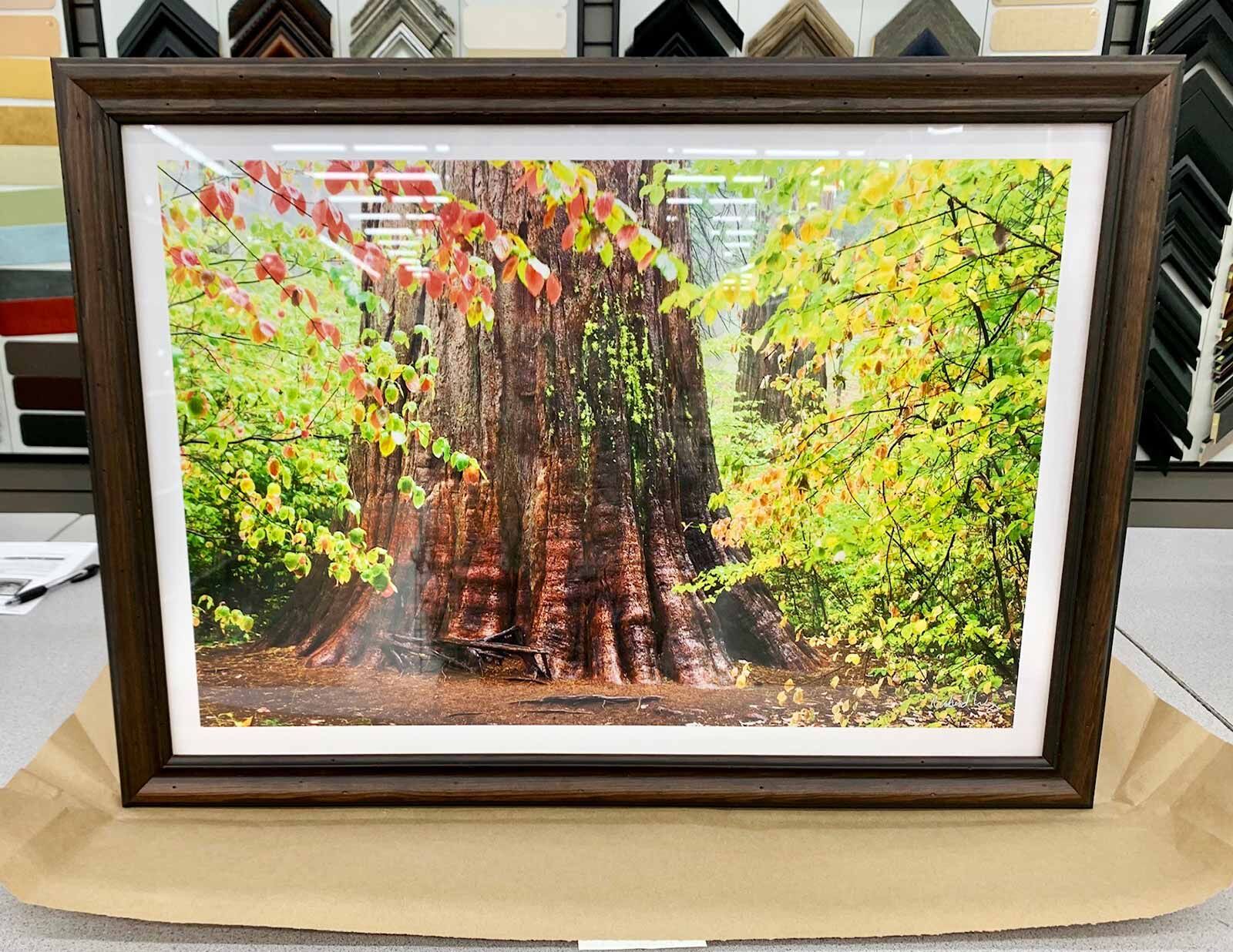 Ready-To-Hang Prints vs Ready-To-Frame Prints
My ready-to-hang prints are priced a bit higher than loose prints however when you factor in the time and expense of working directly with a local frame shop the difference in price is negligible if not less than doing it on your own. The other benefit to purchasing a ready-to-hang print is you can be assured that the print won't get damaged by a framer that doesn't know how to handle large artwork properly. Extreme care must be taken however to prevent larger prints from creasing or getting damaged during the framing process. Consider my TruLife® Acrylic face mounts or ChromaLuxe metal edge mounts if you would rather not deal with these risks. Leave the stress to me and just enjoy your artwork. My print partners are carefully vetted and I stand by the quality of art production that you would be receiving.
A selection of my artwork has been designated as limited-edition prints. Limited to a small edition size of 25, these digitally-signed and numbered prints come with a signed Certificate of Authenticity that has been affixed with our hologram system. The COA will be shipped separately. As the edition gets closer to selling out then the price may increase significantly which increases the value for collectors. Once this edition has sold out then this photo will be permanently retired from printing. This is truly the highest-value print that I can offer for art collectors. If you're interested in a print that hasn't been designated as a limited-edition print and you would like it to be then please contact me. We might be able to work something out that suits your needs. If you would like to be the sole, exclusive owner of a specific piece of artwork then please inquire for availability. If available, you can make me an offer and have the print all to yourself. There is nothing more scarce than a print numbered 1/1. Sleep well at night knowing that your peers could never own the same artwork.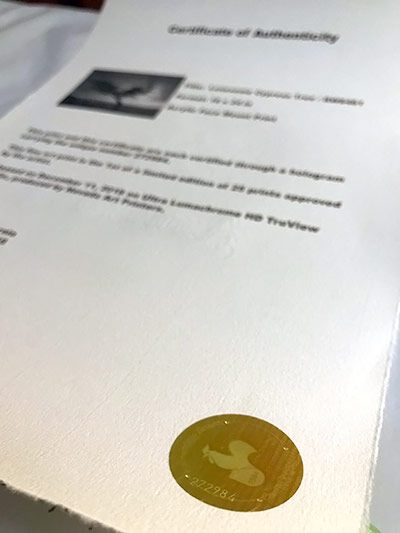 Provenance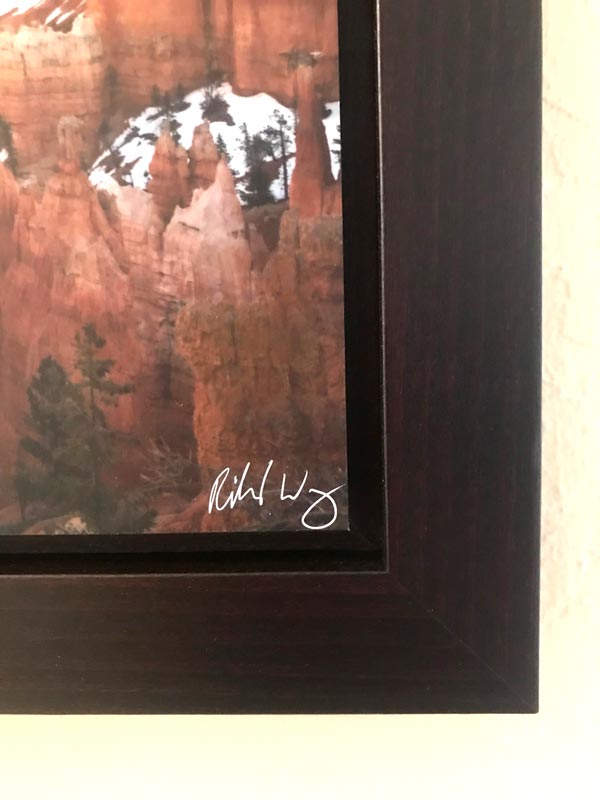 Beginning in 2019, I will be custom signing all prints individually with a digital signature unless otherwise requested. Artists throughout history have signed their work so by signing my work you can be assured that you're receiving an original Richard Wong Photography print and not a reproduction or counterfeit from a 3rd party source. Limited-editions also come with a hand-signed Certificate of Authenticity (COA) which ship separately from the print.
Blockchain Provenance
An alternative to traditional provenance through a paper-based Certificate of Authenticity, blockchain technology is an innovative way to establish provenance as each transaction takes place through a public transaction database. By creating a NFT (non-fungible token) of the digital file, cryptographic tokens represent something unique that only a single person may own at a time which is verified through the distributed ledger technology. When provenance is transferred, there's no doubt as to the authenticity of the artwork. This is an emerging technology however so it's impossible to know how this practice will look like in a few years. Please contact me if you would prefer discussing this method of provenance.
Which Print Size Should I Buy?
The answer depends on where you plan to hang the print and how it enhances the experience of the room. Here is a sizing chart for comparison between my smallest and largest fine art photography prints for sale. Smaller prints are more subtle whereas large prints really draw the viewer into the scene and make a statement. If you know exactly where you want to hang a print then you can measure the dimensions of the surrounding space and send me the photo so I can design a mockup for you. Please contact me at anytime and we can brainstorm ideas over the phone or by email.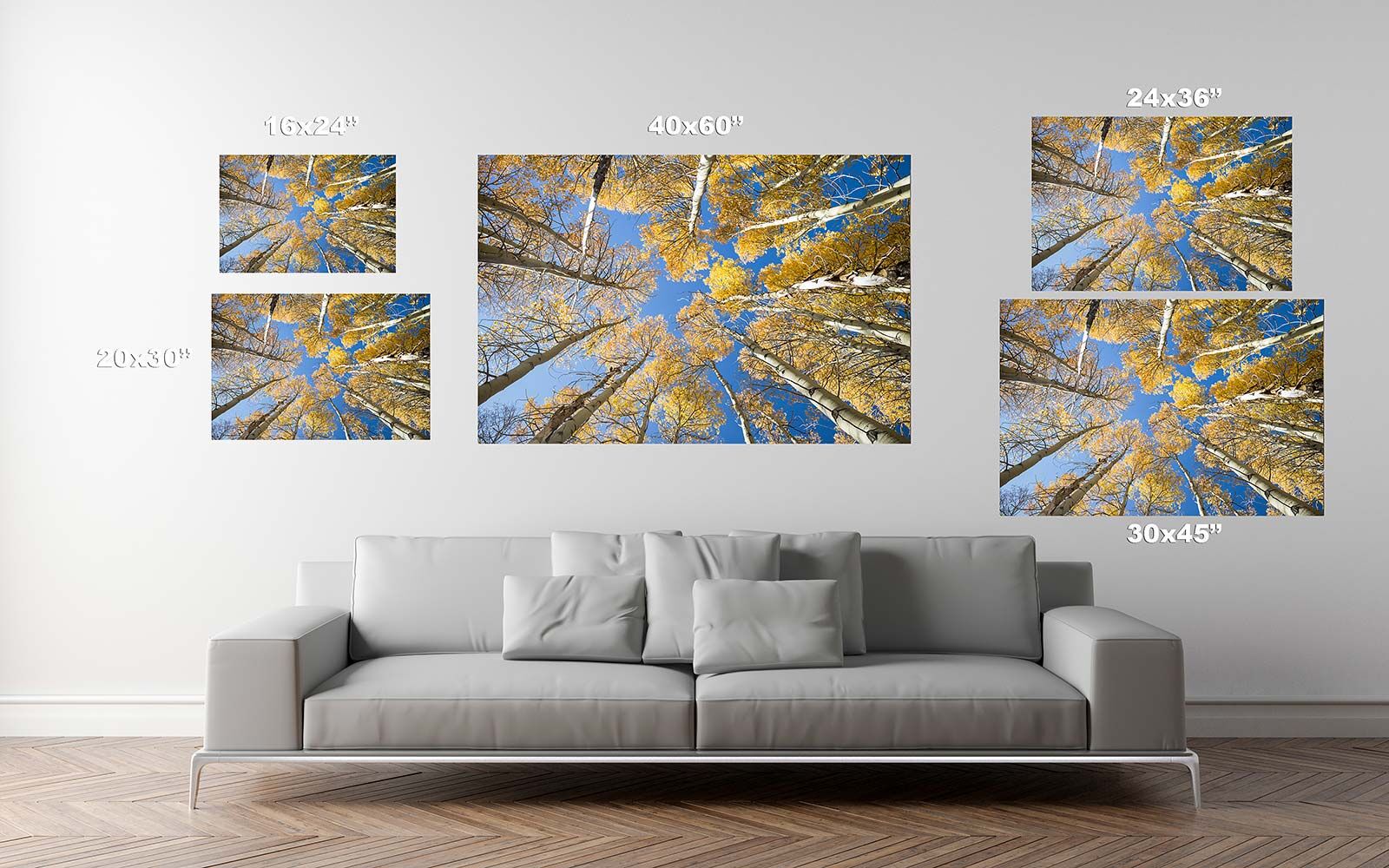 How To Buy Fine Art Prints

Almost all of the artwork on my website is available for purchase as a fine art print. If you have any questions about my artwork or would like to consult with me on art selection then feel free to reach out via my contact form. We can discuss your needs at any time either via phone, video conference or email depending on your preference. I can create a custom gallery or lightbox for you to help you decide which prints to purchase. You can also send me a photo of the space where you would like to hang my artwork then I can create a digital rendering of my artwork within your space so you can see what my prints might look like in your home or office.
Once you've decided on the artwork that you would like to acquire then select the print type (TruLife® Acrylic, Framed TruLife® Acrylic, ChromaLuxe Metal or Canson Platine Fibre Paper) and size then click on "Add to Cart" where you will enter in your payment and shipping information.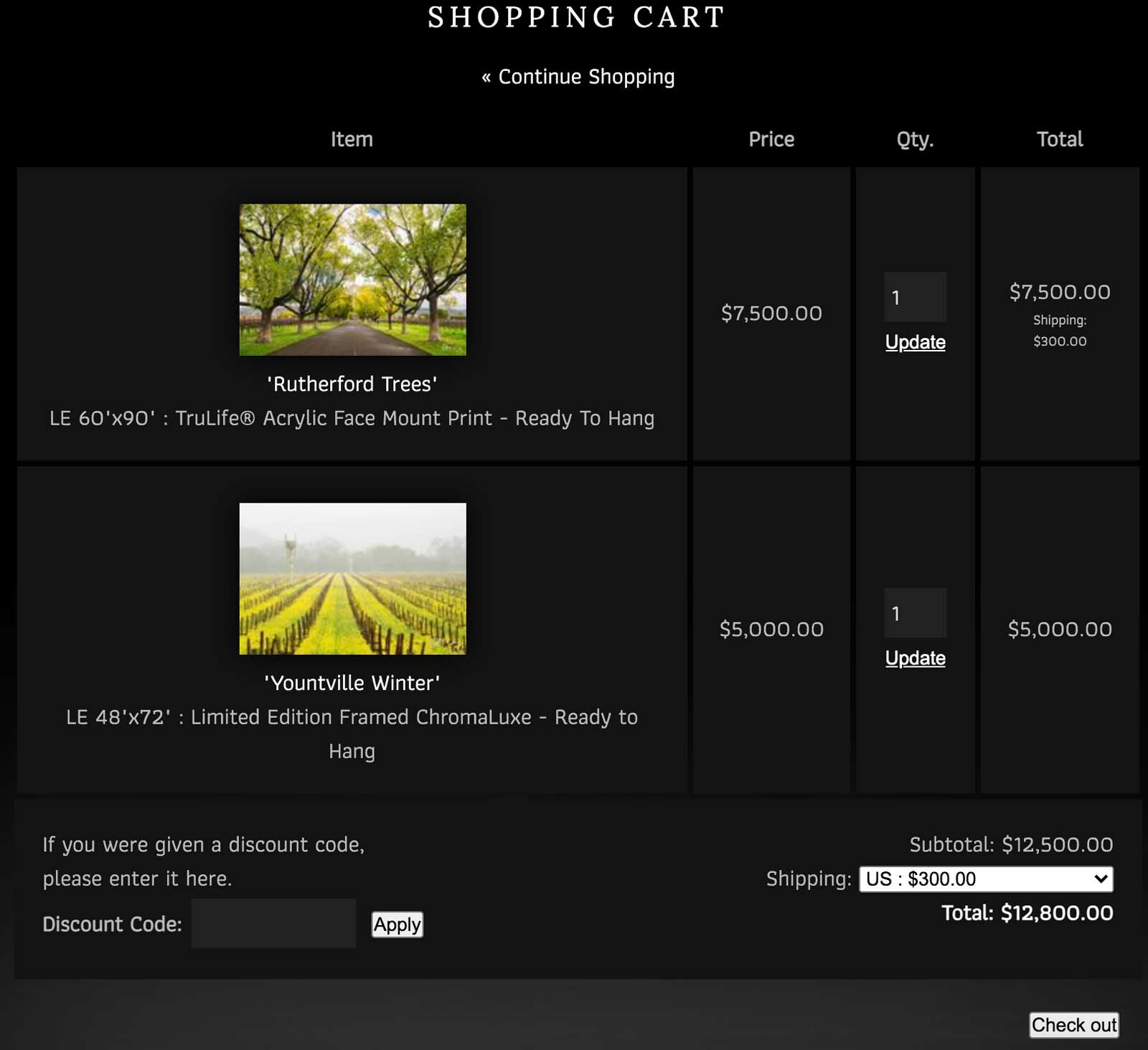 My shopping cart transactions are processed by PayPal which accepts payment via credit card or PayPal. Shipping is free within the United States up to 72". Larger prints up to 120" typically require freight shipping. I can also create custom invoices for you if your print order is outside of the scope of what's available on my website. I personally follow up on each print order to confirm your purchase before proceeding.
Turnaround Time
Platine Fibre fine art prints and ChromaLuxe metal edge mounts usually ship within 1-2 weeks. TruLife® Acrylic face mounts usually ship within 4 to 6 weeks depending on workload. Free shipping within the United States. If you need to receive your prints within a shorter time frame then I'll try to accommodate but it may include an extra rush charge. Please contact me directly for any sales outside of the United States.
Quantity Discounts
Quantity discounts are available to art collectors, consultants and interior designers which can lead to substantial savings on your print order. Decorate a home or office for far less than it would cost on an individual per print basis. Please inquire for more info.
Warranty Policy
All sales are final, however if the fine art print is damaged during shipping then please contact me right away so I can resolve the issue for you.
Custom Art Services
If you have a specific need that differs from the prints and frames for sale on my site then please contact me at any time and lets discuss your needs. Whether it's canvas gallery wraps, framed metal prints, hotel and office wall murals or float mount framing I can produce just about anything available in the market. Alternative sizes may also be available upon request. Just let me know what you have in mind.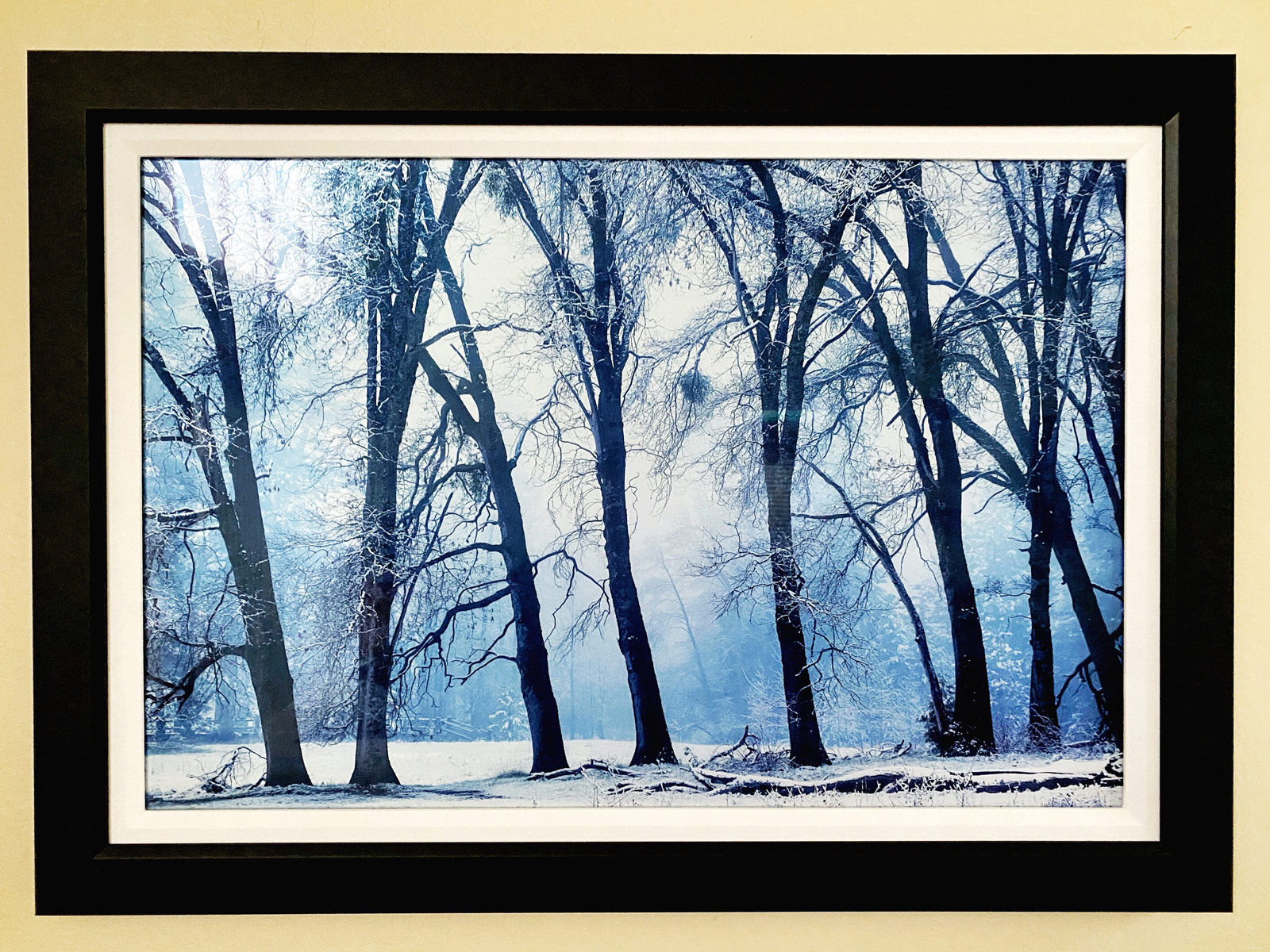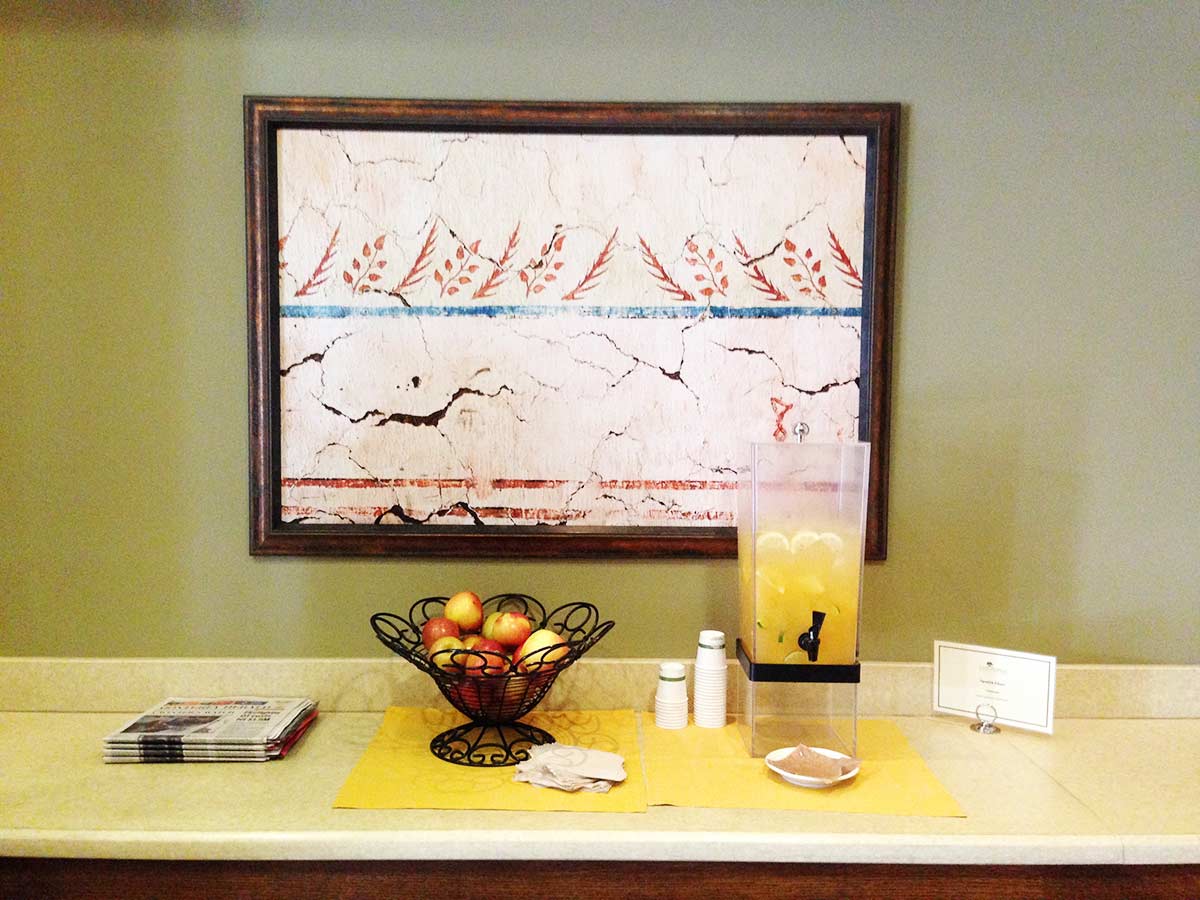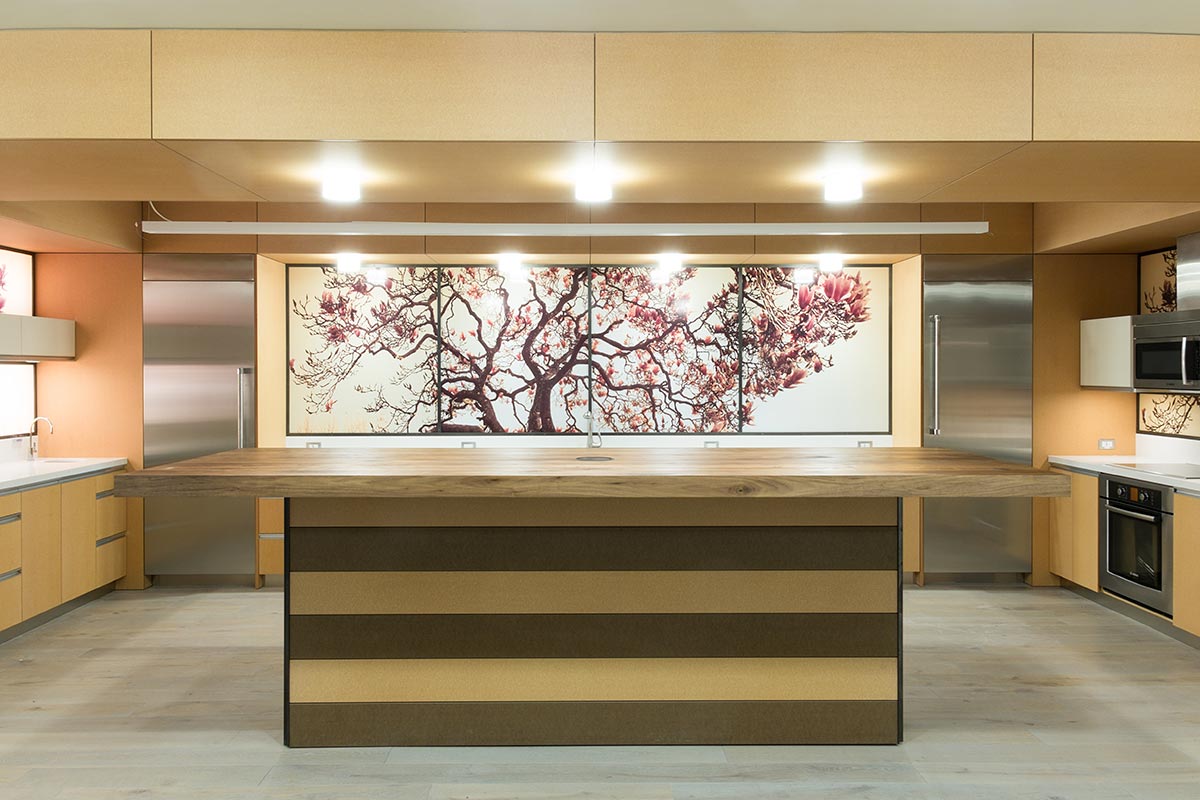 Additional Resources

---
Be the first to view new artwork releases, be notified of artist events and receive promotional offers.