Bedrooms are the most personalized of living spaces within a home. Your bedroom is often a reflection of your personality. Arguably the most outlandish of bedrooms belonged to legendary Hall of Fame basketball player, Wilt Chamberlain (1936 - 1999), who's outrageous basketball stats will likely never be matched. Fitting for his larger-than-life personality, he was infamous for claiming to have slept with 20,000 women, many of whom he entertained in his Bel Air bachelor pad which featured a master bedroom that had a mirrored, retractable ceiling and a sunken bathtub at the foot of the bed. For the rest of us, our personality is probably a bit more conservative so the type of interior decor that we'll be focusing on here is fine art photography. Given the importance of bedrooms in our lives, it's of little surprise that bedrooms are one of the most common places in homes to hang artwork. Even amongst people who don't consider themselves to be "art buyers" or "art collectors" it's very rare to come across a home that doesn't have any artwork in the bedroom. If you're reading this article then I'm guessing that you already have artwork but have some extra wall space, have recently remodeled or you just moved and ready to make a house a home. Regardless of where you are in the art buying process I'll provide some bedroom art ideas here and share some of my favorite fine art prints.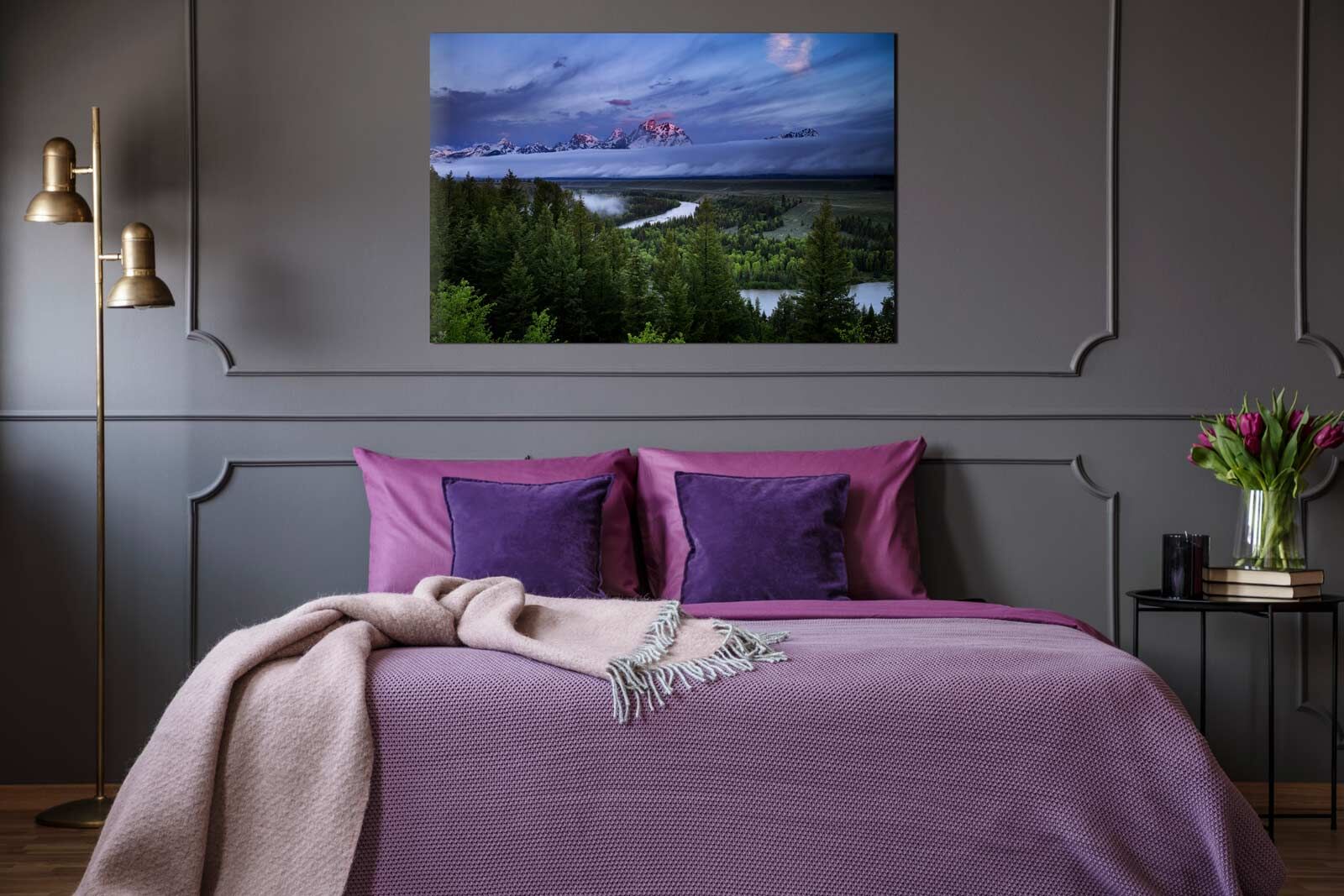 Bedroom Wall Art Ideas
Typically the largest space for bedroom wall art is directly above the bed. You generally want the artwork to be slightly smaller in width than the bed. Naturally the width of your bed can range anywhere from 39" for twin beds to 60" for queen beds and 76" for king beds so that leaves for a lot of different options when it comes to bedroom art sizes. I've created a wall art size calculator to help guide you if you're undecided on how large of a print you need.
As for what art you should hang on your bedroom walls? That's subjective but here are the top four bedroom wall art ideas according to search volume.