"The fact that patients frequently express a preference for landscape and nature scenes is consistent with this observation and with evolutionary psychological theories which predict positive emotional responses to flourishing natural environments. We also conclude that if art is considered an integral part of hospital design, as in the hospitals we studied, this will maximize these benefits." – The Journal of the Royal Society of Medicine
Whereas some photographers / artists believe that the only legitimate place to buy and display artwork is in a gallery-setting, the truth is that people are more likely to see landscape and nature photography prints in a hospital setting than in a formal art gallery. Hospital artwork exists for a reason. If fine art photography prints didn't elicit a positive response in medical patients and guests then it wouldn't be so prevalent on the walls of hospitals and medical offices. It's probably no coincidence why I gravitated toward landscape and nature photography during my early 20s when I was going through a rough time in life. Photography art was my therapeutic outlet even if I wasn't consciously aware of it at that time. The same feelings that I get while creating artwork can be elicited in viewers of hospital artwork as well according to research such as the article referenced at the beginning of this page.
What Colors Are Most Effective For Hospital Art?
Many photographers tend to only shoot photos during the warm-colored light of sunrise and sunset hours. The more "creative" photographers tend to gravitate toward an intimate abstract type of photography. According to the research however, patients tend to prefer the calming blues and greens in typical landscape and nature scenes over other colors and abstract artwork. That is the sobering reality of the healthcare art market for photographers but I believe it. Of the prints I've sold to date, most were photographed during times of day that most photographers tend to avoid and quite honestly not always photos that I would choose for my own home. Different situation, different needs. There's a reason for it so I don't shy away from shooting photos at all times of the day. If it looks good then then it doesn't matter what time of day it was shot even if during the oft-dreaded midday hours. "Big, Bold and Often Dramatic" imagery is more likely to impress other photographers than non-photographers.
Garden and flower photography prints are also another common type of hospital artwork that I've seen. There is something almost universally calming about garden scenes. Here's two of my 40x60 inch California Missions pictures on display at the Loma Linda Rehab Center. (There's a handful of others not pictured here.)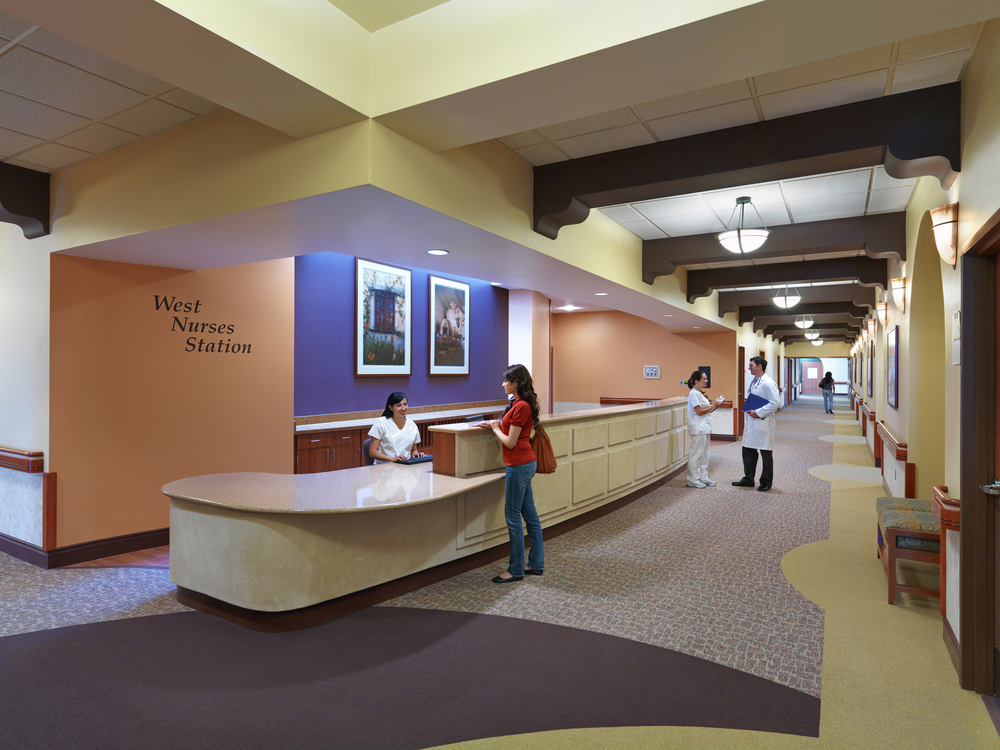 Architecture photo with thanks to Ryan Beck Photography.
Disclaimer: I am not a healthcare nor mental health professional. If you are in need of those services then I would suggest seeking a professional in those fields. These are just my own personal observations based on what I've seen and read as an artist. If I can assist you in any way with art selection then please feel free to contact me through this website. Below are some more photos for inspiration.