With all the options available for photographers to print their work how does one go about deciding which papers / surfaces to print on and what presentation style if any? Should I self-fulfill or work with a professional print lab? Lots of decisions and the choices made at this stage is what separates someone that is serious about their craft vs someone who isn't. When buying artwork art collectors are not buying a commodity like paper and ink. They're buying a personalized creation from an artist.When buying art direct from the artist they're paying for a premium service so as a photographer / artist you owe it to your buyers to play the part. I've recently put in a lot of time and spent thousands of dollars into revamping my print offering but in order to make decisions that I feel good about I had to invest in test prints.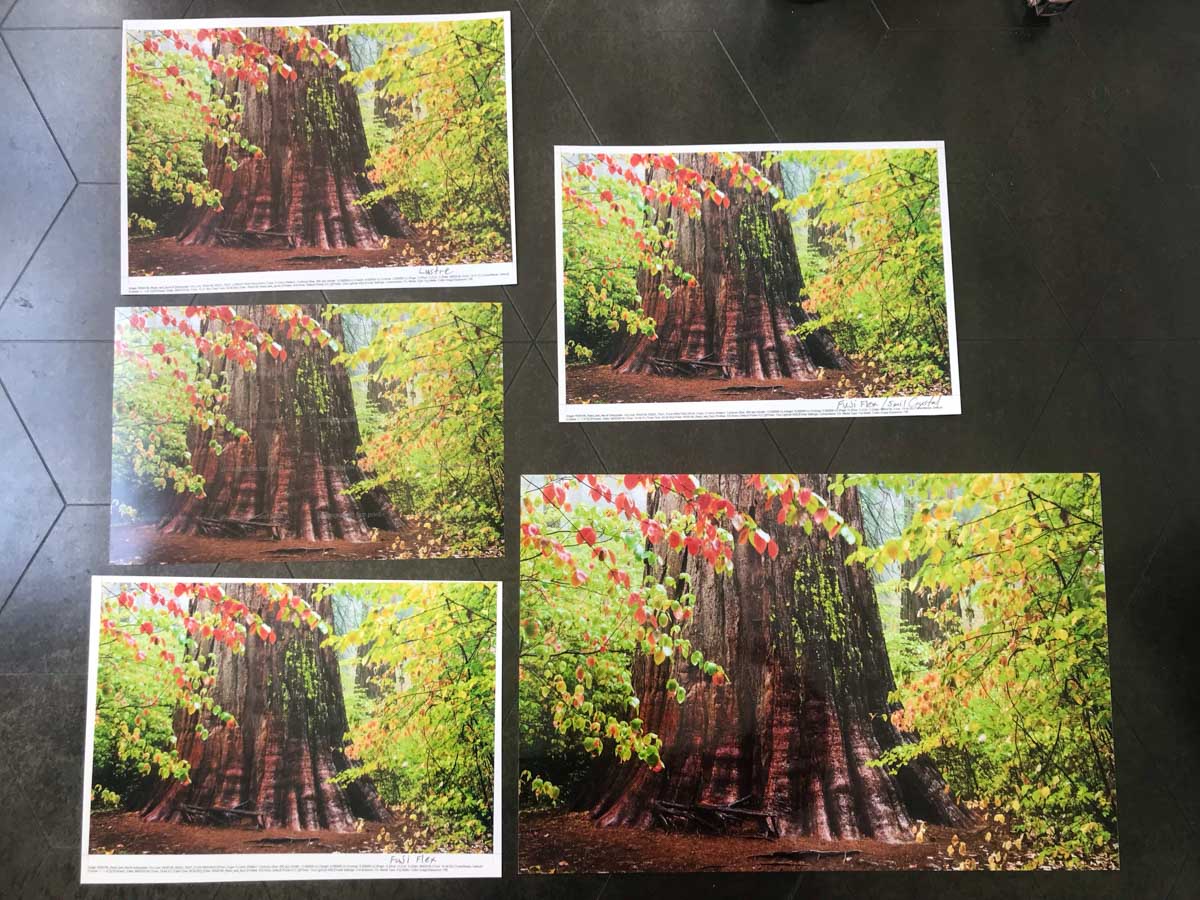 The first time I put serious thought into producing prints was during the mid-2000's when I took a semester-long digital printing class taught by one of Galen Rowell's former gallery managers. I learned a lot in that class. Not so much from a technique standpoint as my processing technique today is light-years ahead of where it was back in those days but what I learned was how to view prints with a critical eye. There was one Fuji Velvia slide film photo that I had scanned that required 40-something hours of adjustments and more than 100 Ultrachrome test prints on Epson Premium Lustre paper to get it right. That was one of about a dozen prints I had to produce for that class. Velvia is notoriously difficult to work with so lesson learned there. I personally think it was a shitty slide film in hindsight but I digress. But more importantly I learned how to look at critical details from shadow and highlight color balance to how to properly expose a file so it looks good in print. Here's some insight: I see a lot of landscape photographers on Instagram and Facebook posting really dark landscapes that get a lot of likes. Those photos only look good on a screen or monitor because the screen is essentially a backlit lightbulb. Those same photos would look terrible as a fine art photo print or at the least would have to be completely reworked to look acceptable on paper. The proper term for that is "severely underexposed". Nobody wants to hang a print like that in their home or hospital.
The other thing I learned in that digital printing class is the importance of monitor calibration. This is the most basic yet most essential element of being able to predict the results of your print prior to having it printed. Without a monitor calibrated to same standard as your print lab / printer of choice then you're just going to praying that the print resembles what you see on your own monitor. Taking that printing class was probably the most useful class I've ever taken in my entire life because the prints I've gotten back from professional print labs have almost always been very close to what I expected to receive and met my standard if not exceeded. If not for that class I'd probably have had unhappy art buyers before figuring out what makes for a good fine art photography print. One nice benefit to test printing is that I've kept some to hang in my own home while some of the others have since found a new home. My living room and bedroom is currently filled with prints both on the wall and stored away.
Though I've spent time over the years on making prints both for test and for art buyers, selling prints was not my main focus until 2019 so I hadn't paid much attention to evolving my offering over the years. I've taken the past year and a half to soak up as much research as I can in addition to visiting art festivals and galleries to see what others are doing these days. When I first started off the only option really was loose prints and a few consumer online labs would offer small framed prints but nothing marketable so all I offered was loose prints. One day when I was living in LA, I attended a Toastmasters meeting at someone's house in Pacific Palisades. This guy was a hobbyist photographer and had a lot of canvas gallery wraps in his home. I had never seen that before and was impressed with the presentation style as it "popped" from the wall. Soon after I purchased my first canvas gallery wrap. That was sort of a revelation for me in that prints could be more than just paper, matte and frame.
In recent times it seems like metal float mount prints have become all the rage at art festivals and some galleries even. Though I offer ChromaLuxe prints for sale they are not really my favorite substrate to print on. I find the float mounts to cheap looking but when mounted on an edge mount frame they look classier. What really caught my eye however is Lumachrome Acrylic Face Mounts and ROMA framed Fujiflex prints. Printmaking technology in the latter half of this decade has really evolved dramatically. So many options, so many contemporary presentation styles!
With a renewed focus on revamping my print offering I've been doing a controlled test with different print types from multiple labs. Rather than just print random photos, I've largely stuck with test printing photos that I've printed before so I have a baseline to work from. For the remainder of this article I'm going to explain my test print methodology and my thoughts of the various print options. This article isn't meant to be a review but more of what my decision-making process is like. I'm not here to endorse any specific professional print lab but for disclosure I did receive a stack of free test prints and acrylic from Reed Art & Imaging based out of Colorado. I'll disclose those prints where relevant. Ok with that said here we go!
Test Prints Round 1: The Land of the Giants
I chose to test print "The Land of the Giants" from Calaveras Big Trees State Park. All of these test prints were processed exactly the same way with no alterations to the master file aside from sRGB conversion on the WhiteWall and Reed prints. I added some sharpening to the Bay Photo and WhiteWall prints while the Reed print was an "open hit". The reason why I chose this print is because it has a nice range of tones and colors from reds, yellows, green to cooler tones. The tonal contrast of this print ranges from dark shadows near the base of the tree to bright highlights in the fog. This is not an easy print to work with so a perfect test for a lab's printing capabilities and to see how different print types respond to these situations. I photographed these prints with my iPhone in natural light so I apologize for any variances between what I'm describing here vs what you're seeing.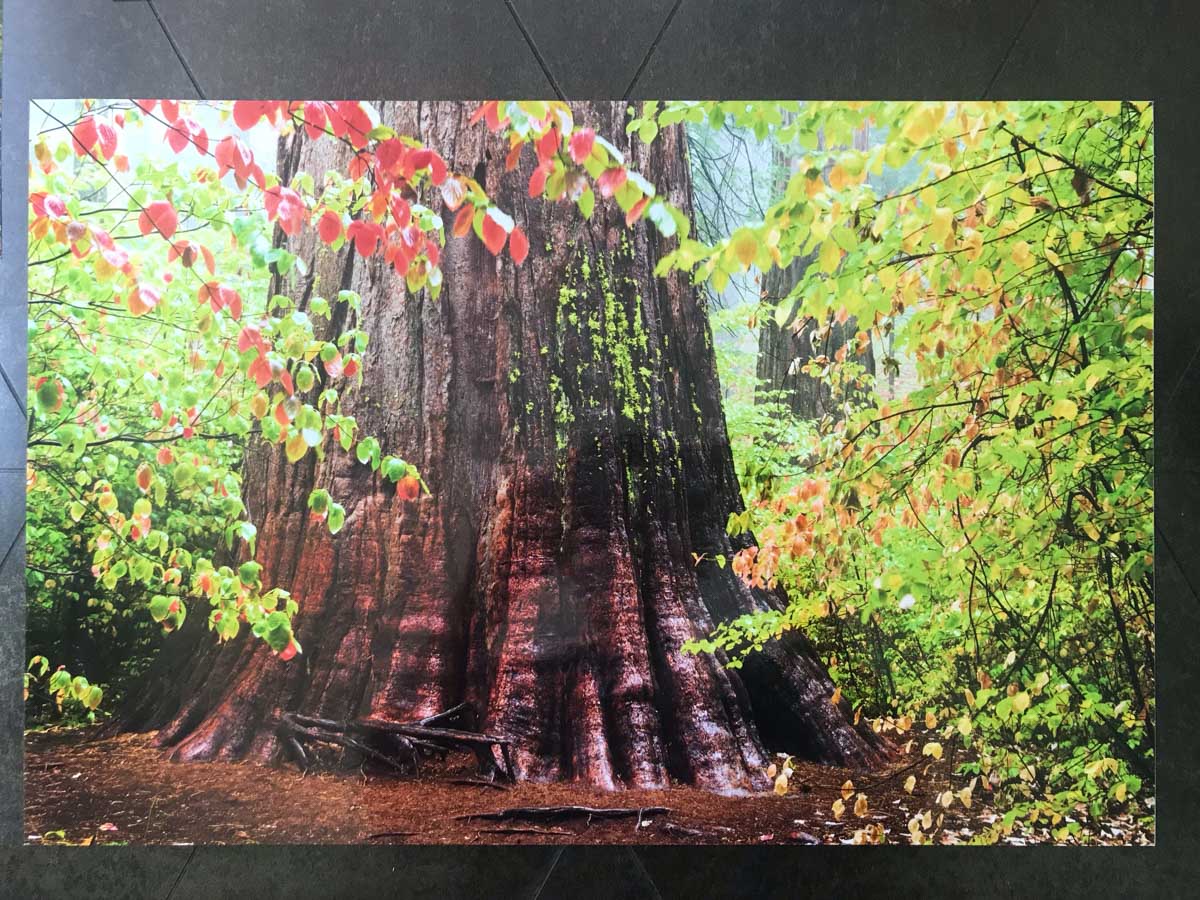 This Fuji Crystal Archive Pearl print from Bay Photo is unique among this test due to the reflective qualities in the highlights. According to Fujifilm, it's due to pearly mica crystals that have been embedded under the surface. I would describe this print as a metallic print. The print is eye-catching and I think this print would be well-received if it were to find a home. Using a critical test print eye however, I was not impressed with how the highlights appeared to be a bit blown out in the fog and the yellow / green foliage around the fog. The shadow detail on the lower left of the tree was a bit muddy and overall lacking in mid-tone detail. I was ok with the glossy surface. It's not the glossiest surface I've ever seen.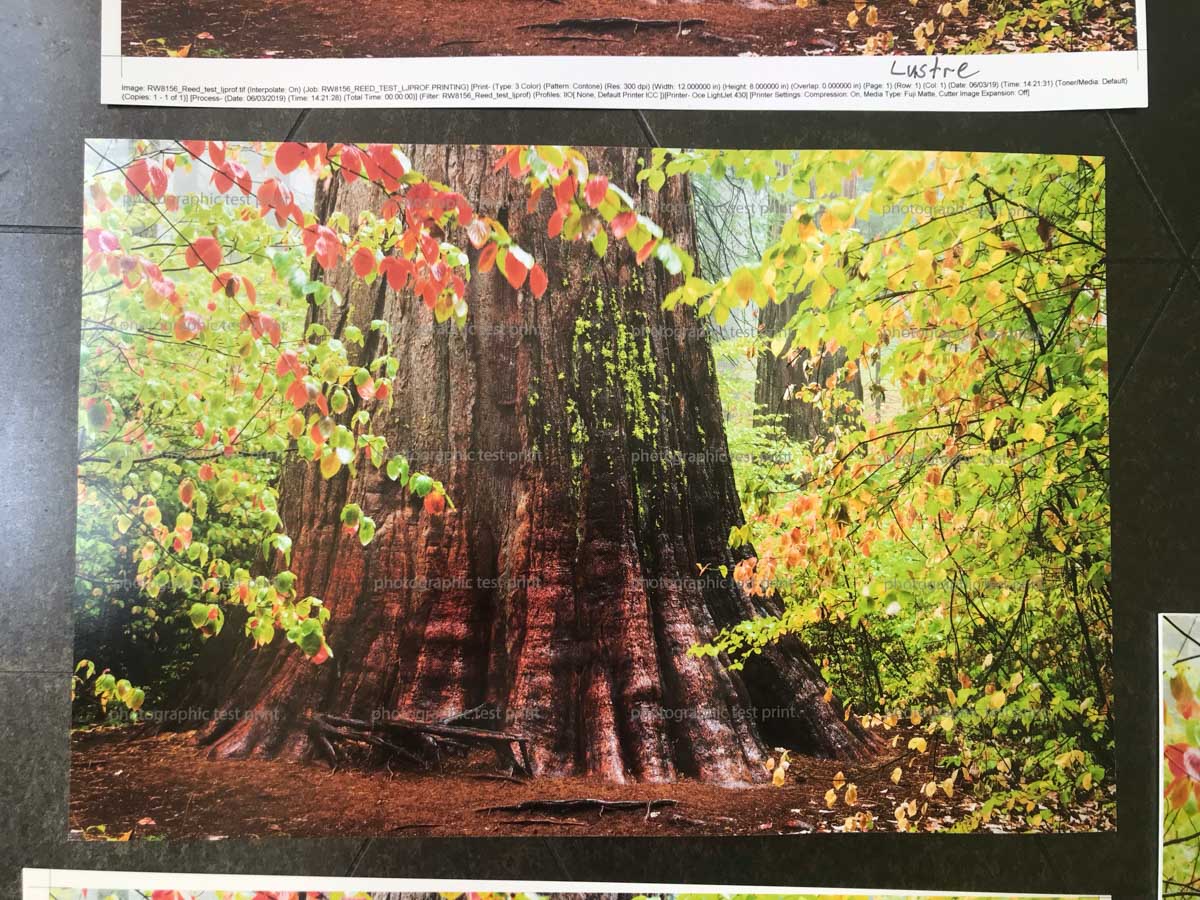 Next up here is a Fuji Crystal Archive DPII Matte print by WhiteWall. Of all the prints tested here, WhiteWall had some of the most accurate color rendering compared with my master file. Highlights were handled very well and the shadows had pretty good detail. The one troublesome area I've seen across all the Fuji prints in this test however is the inability to fully capture the full range of red tones from my file particularly in those red leaves on the upper left half of the print. Red comes out a bit muddy and more maroon than a vibrant red. Overall, I really like this print.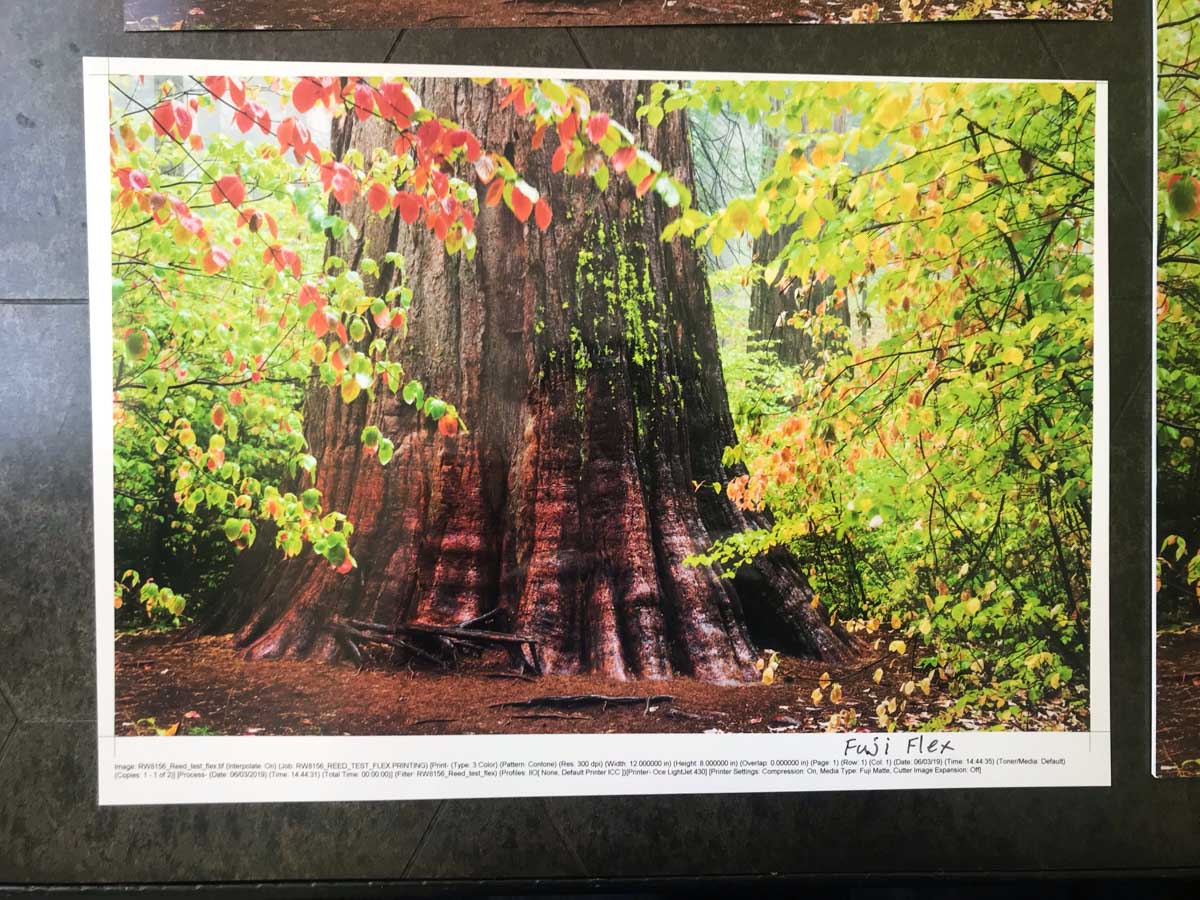 Here is the Fujiflex Super Gloss from Reed Art & Imaging. Fujiflex is the most expensive paper that Fujifilm produces as it's made from a glossy polyester paper base as opposed to the standard paper pulp sandwiched between two layers of photographically inert resins. This print had the same issue with the red foliage as did the other prints though it did pull a little bit more red highlight detail out which I believe is due to Fujiflex being a higher dynamic range paper. The biggest difference on this print is the shadow details blew the Pearl & DPII shadow detail out of the water. One observation I have to point out on all of the Fujiflex prints from Reed is that the overall color balance skews on the cyan / cool side compared to how my original master files look. That is not a bad thing as the print looks beautiful but I do have to point that out. This is not something the untrained eye would notice nor would most people unless they were the photographer and had other prints to compare with; or through the Soft Proofing phase in Photoshop. For my own tastes, I wouldn't choose to print on this glossy surface because I find most glossy surfaces to be extremely distracting and prevents me from focusing on the actual artwork.

John Harris of Reed Art & Imaging wrote to me after I originally published this article regarding the color and had this to say: "We linearize (calibrate) all of our latent image papers to standards set forth by the manufacturer. Fuji does indeed ask that we set the neutral "greys" to a slightly blue-cyan color balance. It is possible that other vendors could be ignoring the manufacturers guidelines and calibrating their papers to a balanced neutral. Again this is just a guess on my part. A proper profile should reveal this deviation via conversion to output profile of a greyscale image. You can test this by creating a neutral step-wedge in photoshop with dither turned off. Convert the step wedge to one of the output profiles and read the new values. The conversion should move the color of the file in the opposite direction of the calibration bias. So the conversion should add a bit of red and yellow to our step wedge to balance out the slight blue-cyan of our linearization."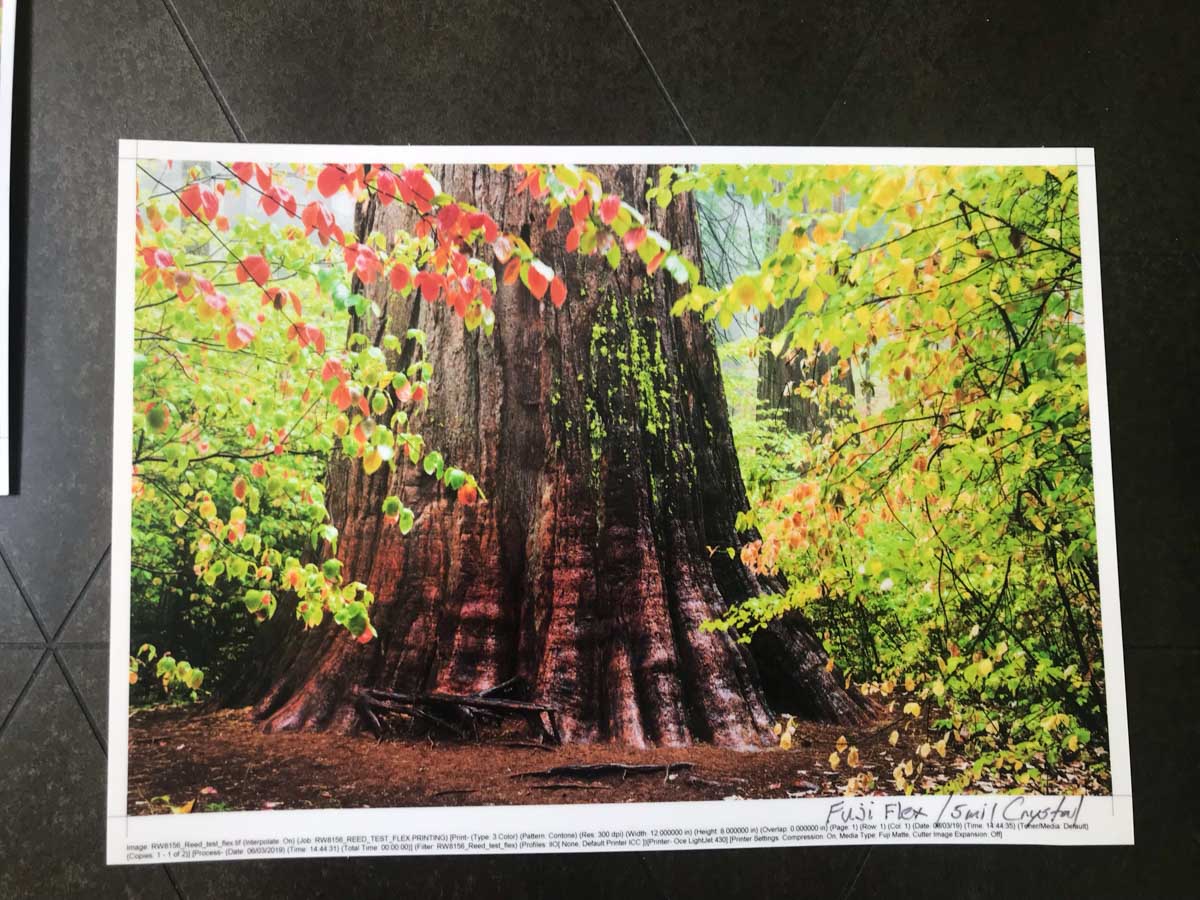 Here is the Fujiflex Super Gloss with 5 mil UV Matte Laminate from Reed Art & Imaging. This is arguably the most beautiful print of the bunch. This is the same paper as the previous Fujiflex print but with the UV matte laminate. This is really where Fujiflex sings in my opinion. The print has all of the benefits of the Fujiflex with none of the distracting glare. This print feels really robust in my hands and has a nice texture to the surface. As with the other Fuji prints from Reed, the overall color balance is cooler than my master file and prints from the other two print labs.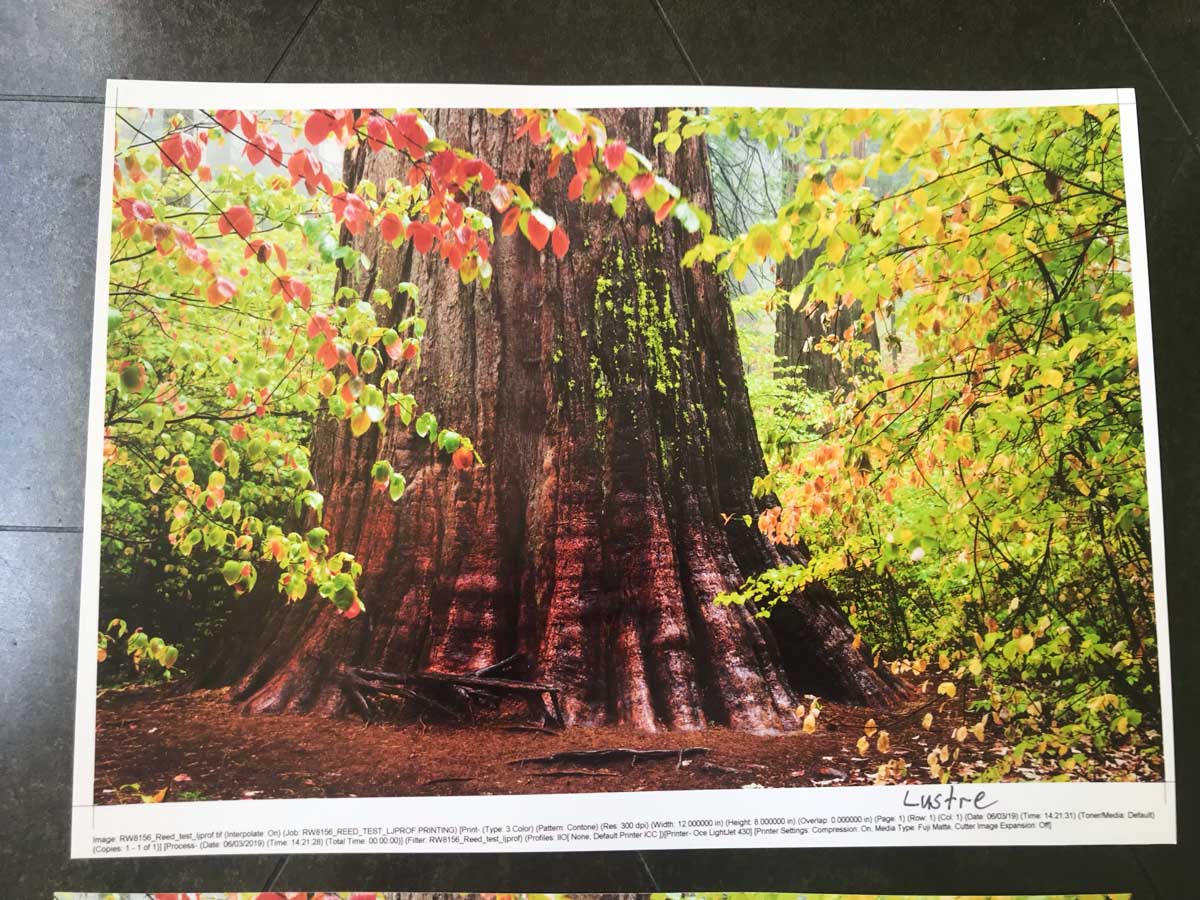 The above photo of The Land of The Giants is a Fuji Crystal Archive Lustre paper print also from Reed. This was my least favorite print of this particular test. I found the overall print to be a bit muddy and darker than all of the others. It sort of resembles the color palette of the DPII paper from WhiteWall but overall not as good of a print due to the darkness and muddy details. With that said, if I were to receive an official print like this I would still be happy. It's a good print just not as good as the others. We're talking about the difference between good and great here.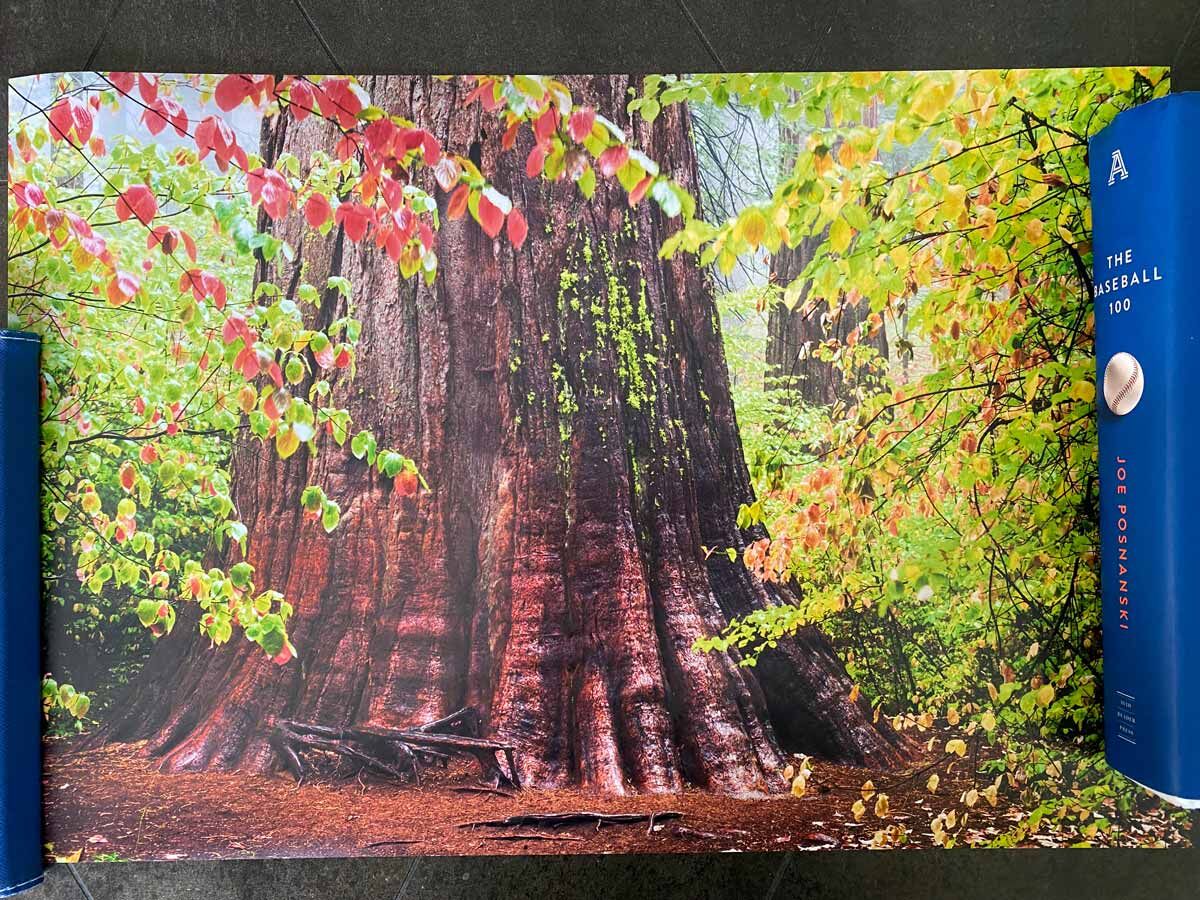 Next up, I have a Fuji Matte print by Artisan HD. I liked this print better than the Fuji Lustre print from Reed and the Fuji Pearl print from Bay Photo. This print is held back by the muted red & yellow tones however as this characteristic is shared by all of the Fuji papers I tested on this photo. This print didn't do so well in terms of blacks either as I didn't find the shadows to be as impactful as some of the other prints.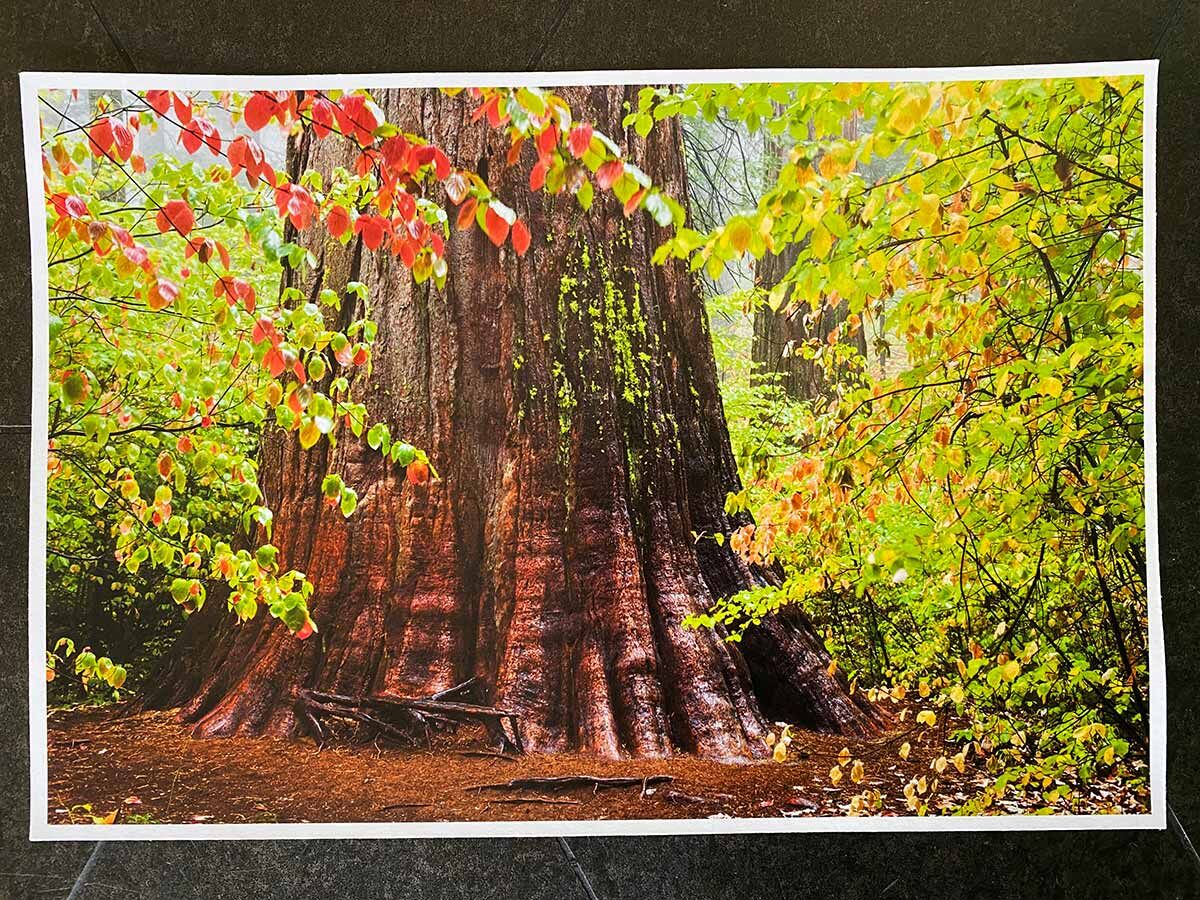 At the suggestion of Michael Baker from Reed, I decided to make a test print on Canson Infinity Platine Fibre Rag. Weighing in at 310 gsm, Platine Fibre is the thickest paper that I tested on. A cotton platinum watercolor media print, Canson renders some amazing red and yellow tones. The blacks are a pure black. The dynamic range also appeared to be at least as good as the Fujiflex in terms of shadow detail though this could also be due in part to being a satin finish whereas Fujiflex is high gloss. This print unexpectedly knocked my socks off from the instant I opened the package.
WhiteWall started offering some new giclee prints in 2022 so I decided to try Canson Infinity's Arches Aquarelle Rag paper. This is a natural white paper with a matte, watercolor texture. It's the same 310 gsm thickness as the Platine Fibre Rag paper. I really liked the way this paper felt in my hands as it felt substantial and the texture gave it a feeling of depth. The texture compliments a detailed photo like The Land of the Giants. The print didn't feel as lively as the Platine Fibre Rag print from Reed Art & Imaging however both in terms of color and impact. The paper is rated as 1.65 Dmax and 83.1 Whiteness.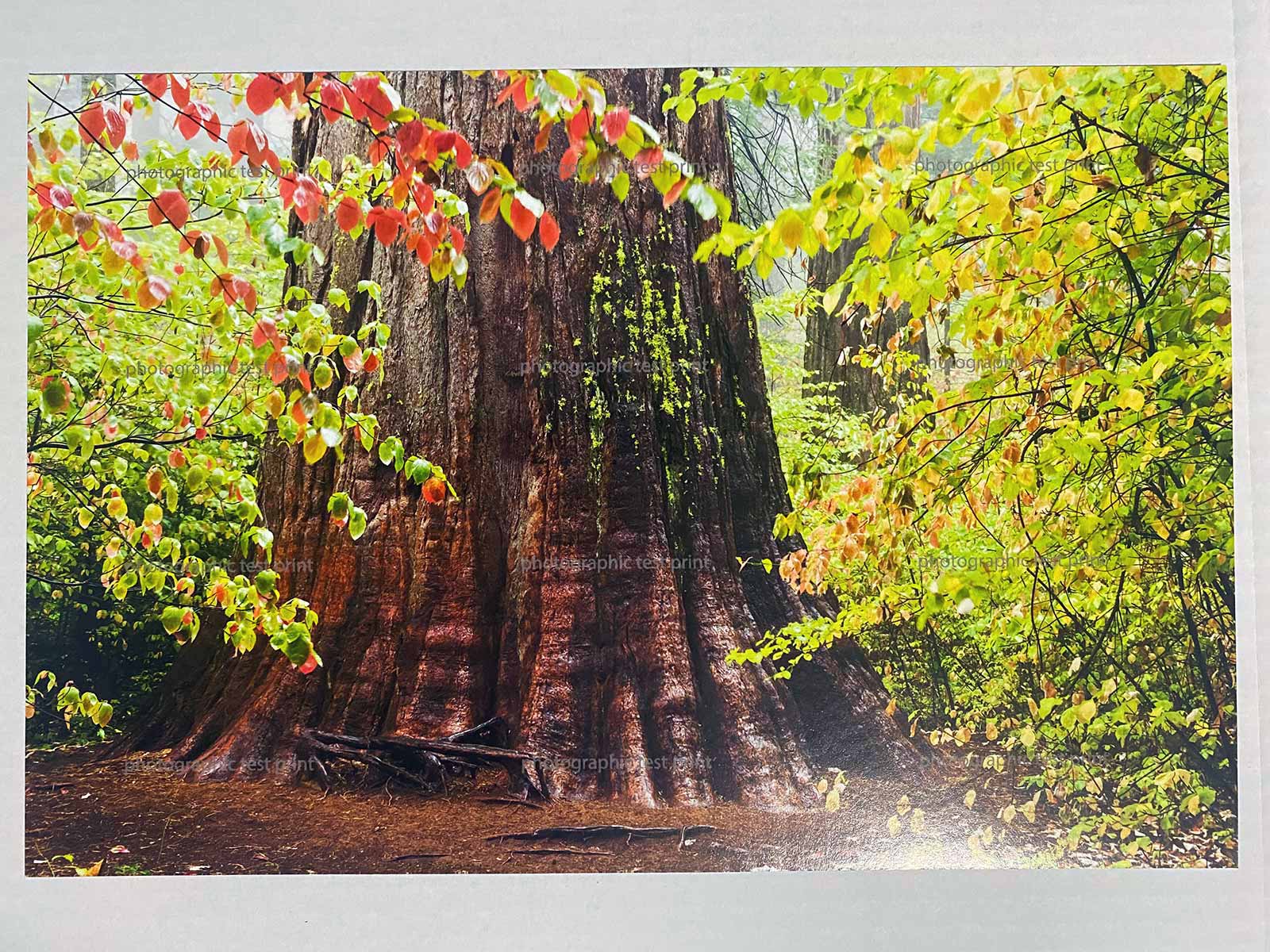 Canson Infinity's Baryta Prestige II has a silk gloss finish which you can see in the photo above. It picks up some reflections as does the Platine Fibre Rag print. I wouldn't consider to these to be extremely glossy like some of the Fujifilm papers but enough to cause a reflection at certain angles. This paper definitely is more contrasty than the Aquarelle Rag and thus more visually-appealing in my opinion though I much prefer holding the textured Aquarelle Rag print in my hands. At 340 gsm, Baryta Prestige II is the thickest photo paper I've printed on. The paper has 88% Whiteness and a 2.16 Dmax which it means the blacks are substantially deeper. Overall, this was one of my favorite prints.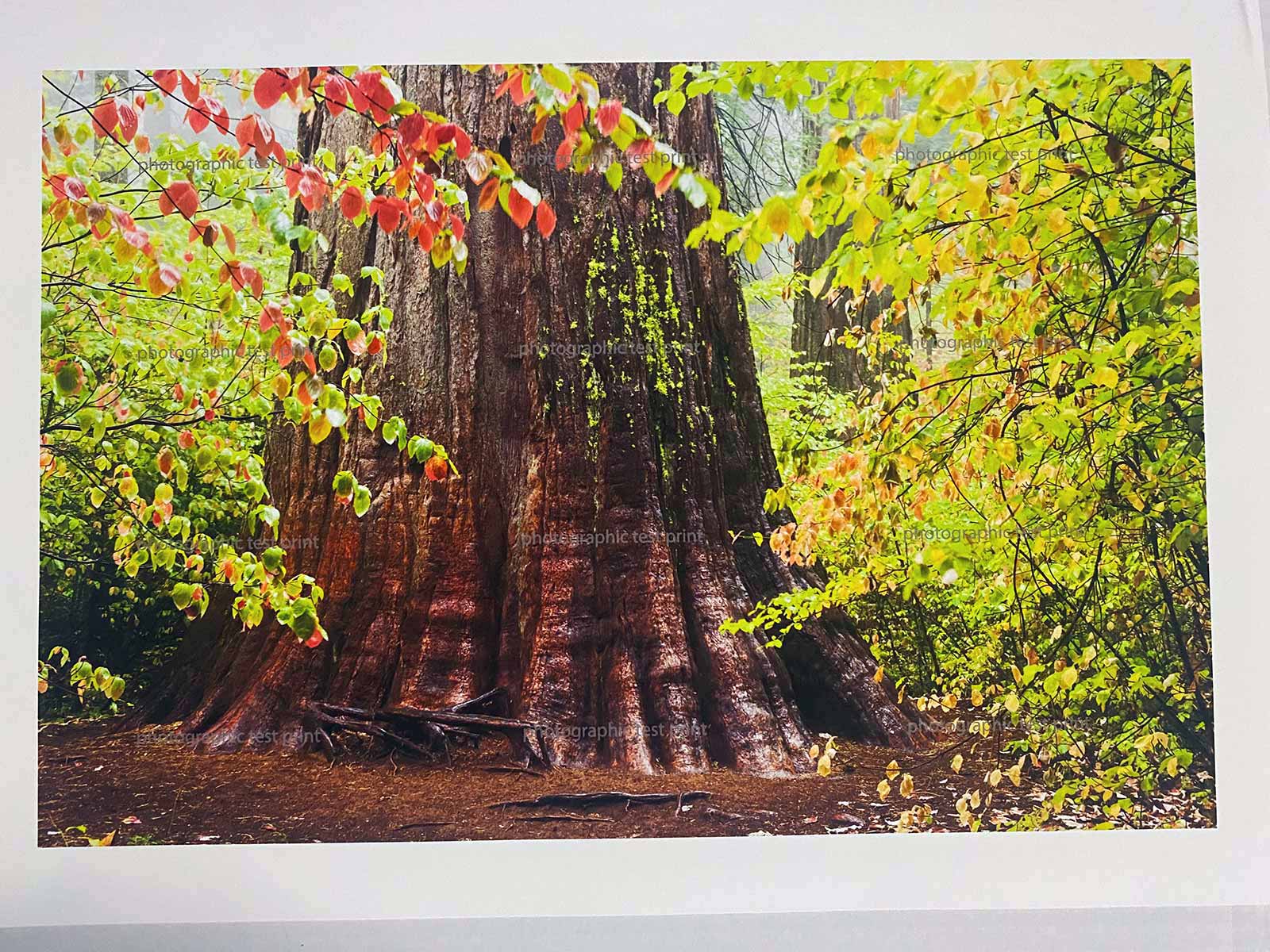 Next I decided to try Canson Infinity's Rag Photographique. This is a paper that I had printed on previously about a decade ago. What I like about this paper is the smooth matte texture to the paper. This paper doesn't really do well with contrast though as the shadow details aren't crunchy enough for my tastes. If I want a matte print of this photo then I would go with the Aquarelle Rag instead. Rag Photographique is a good paper if you like "quieter" type of prints but my personal tastes gravitate toward the eye-catching sort of look. This is a 310 gsm paper with 1.56 Dmax and 89.8 Whiteness ratings.

Canson Infinity vs Fujifilm Paper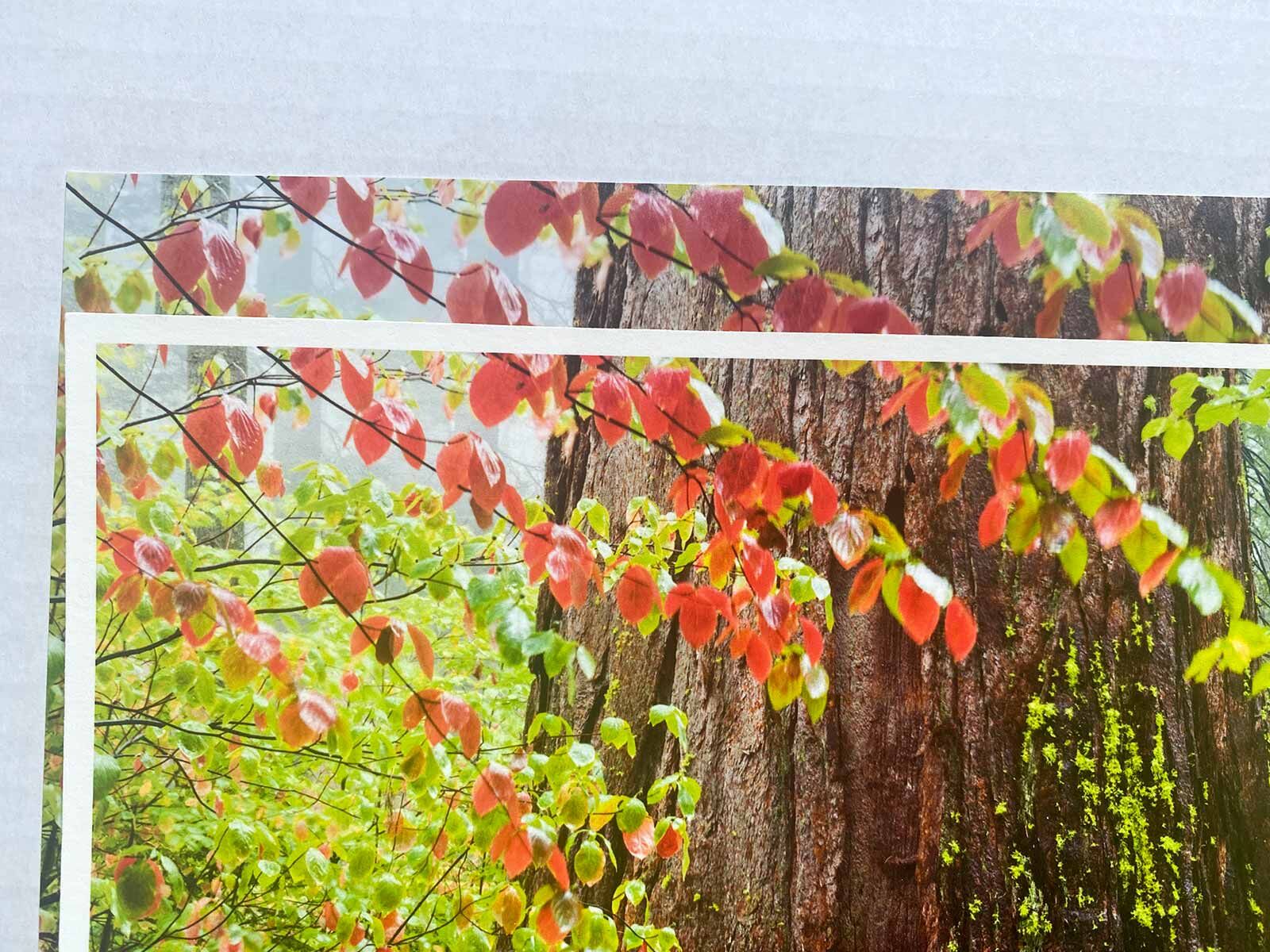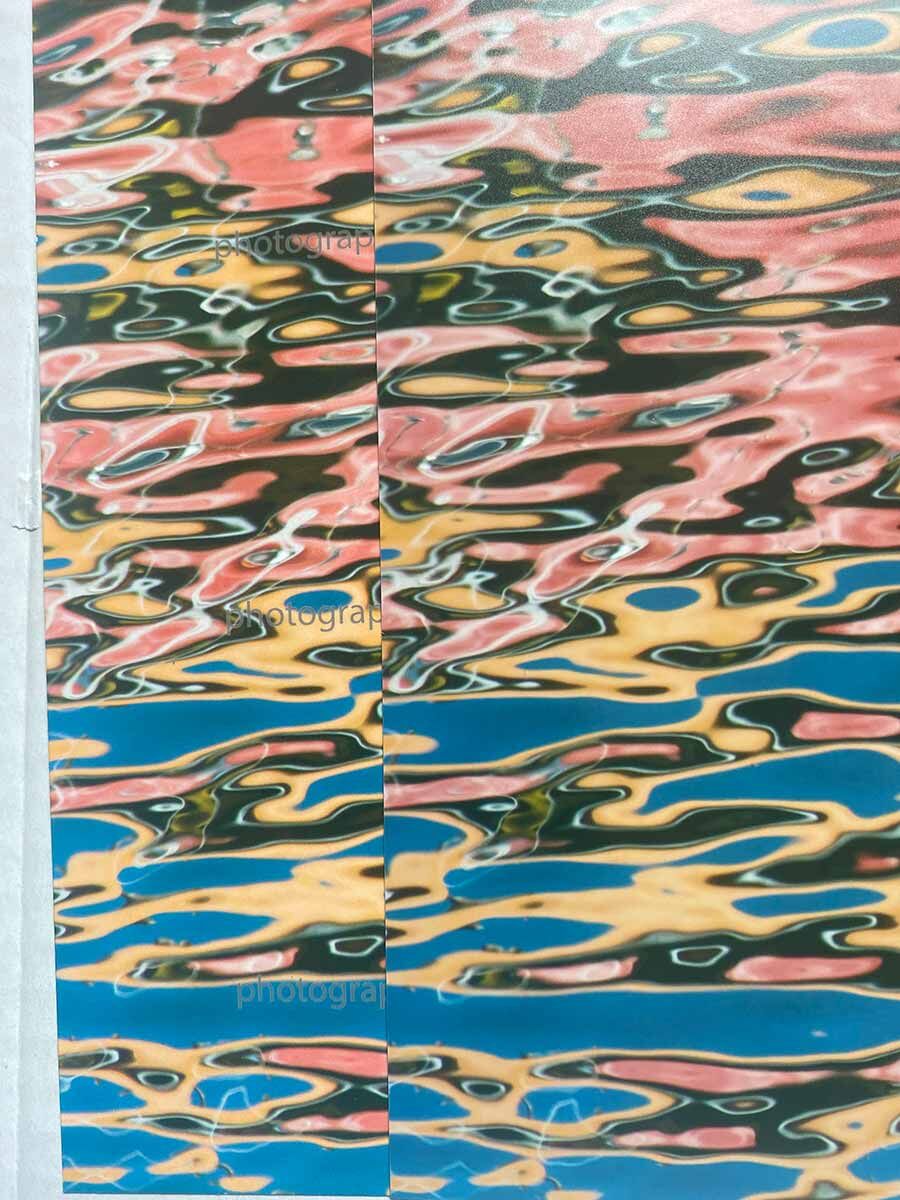 Could the color differences be any more noticeable? The reds, yellow and blues are different hues when comparing any of the Canson prints with Fuji Matte. The print files are identical with no additional processing. It's also interesting to see that Baryta's Silk Gloss is not too dissimilar from Fuji Matte in terms of how reflective the print is.

My overall verdict on this round of test prints is I prefer the Fujiflex with 5 mil UV matte laminate and the Canson Infinity Platine Fibre Rag. If I had to pick one to print on? That question is more complicated to answer. Fujiflex as described by the rep from Reed is best suited for acrylic face mounting or other direct mounting methods such as Duraplaq mount prints. You can't really frame it like a traditional paper print so this essentially rules out selling this medium as a loose print in my opinion. The Canson print on the other hand is a traditional paper print so you can do anything you want with the print. Platine Fibre Rag was the more accurate print from an overall technical standpoint and arguably the most eye-catching due to the wider color gamut. However, I also felt a strong emotional impact from viewing the Fujiflex print that I didn't get from the other prints. So should you buy this as a Fujiflex print? It depends. Contact me, we'll make that decision together.
Test Prints Round 2: Sunset Point
Next up is "Sunset Point" from Bryce Canyon National Park. I created this photo during my recent 17-day road trip through the southwest. I did something a bit different on this photo as I processed the master file using a Pro RGB color space which has the widest color gamut available. The challenge with this however is that no print can really come close to capturing the full range of color available in a Pro RGB file. That made this photo an ideal candidate to test print. My first test print of this photo was disastrous due to a misunderstanding on my part so that print isn't included here. What I have here is a Fuji Crystal Archive DPII Matte print from WhiteWall, a Fuji Crystal Archive DPII Glossy print with UV laminate from WhiteWall, Fujiflex Super Gloss from Reed Art & Imaging, a Fujiflex Super Gloss with 10 mil glossy Laminate from Reed and a Fuji Crystal Archive Lustre print from Reed.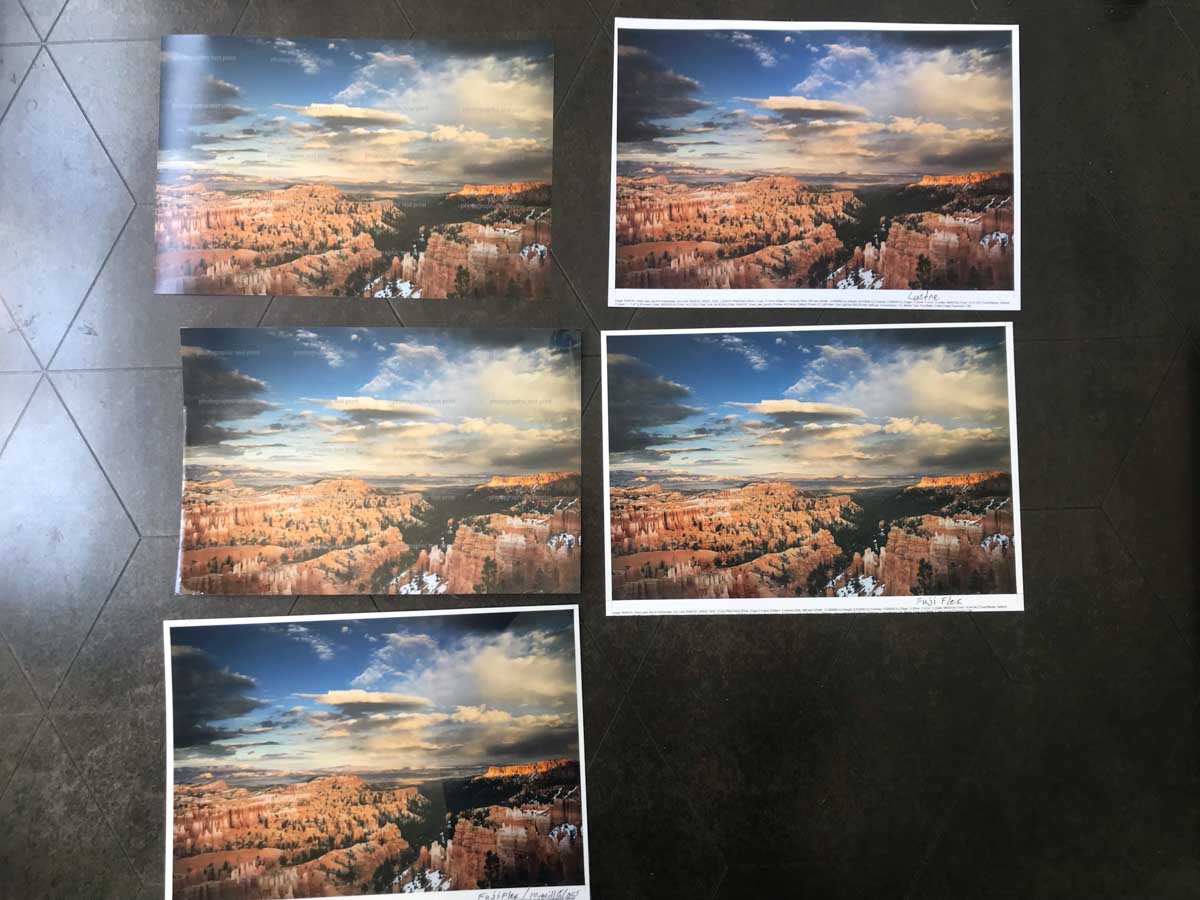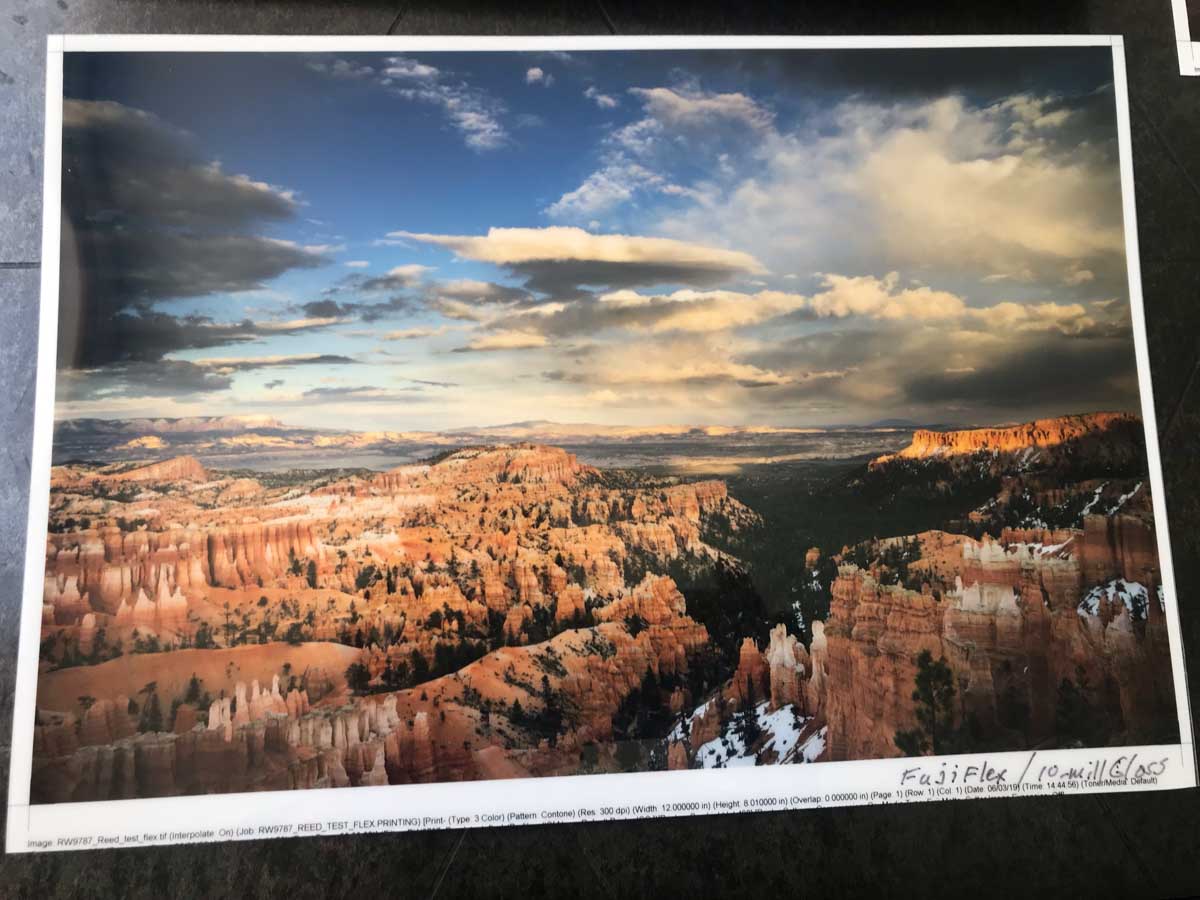 This Fujiflex Super Gloss with 10 mil glossy UV laminate looked great from a color standpoint and had excellent shadow details in the trees. It's hard to tell here in this iPhone photo but trust me, this print had excellent shadow details. The saturation was great as well. I did not like the glossy laminate surface here as it was way too reflective to enjoy the print. I did like the thickness of the print though as the 10 mil laminate really makes this feel substantial in my hands.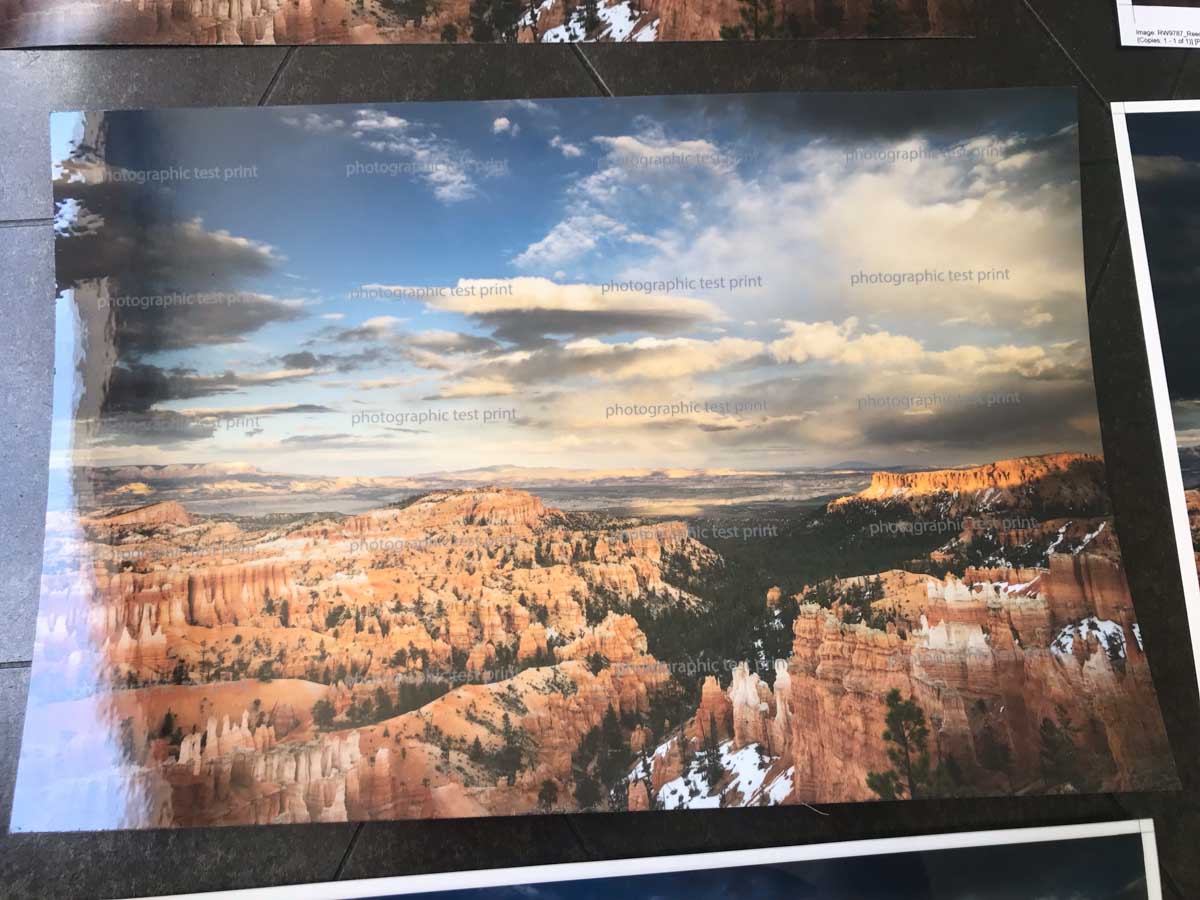 I was surprised at how the Fuji Crystal Archive DPII Glossy print from WhiteWall resembled the characteristics of the Fujiflex print from Reed. Unlike the polyester base of the Fujiflex, the DPII print is an actual paper print. The shadow detail was excellent and so was the saturation. The color differences between WhiteWall and Reed Art & Imaging was quite noticeable on this round of test prints particularly in the blue sky. The WhiteWall print is on the warmer side - as was my print file, while the Reed print has a much deeper / cooler shade of blue. I would argue that Reed's blue tones are more aesthetically pleasing but that is a subjective call. Both the Fujiflex and DPII prints were excellent. Again though, the glossy surface is not my thing.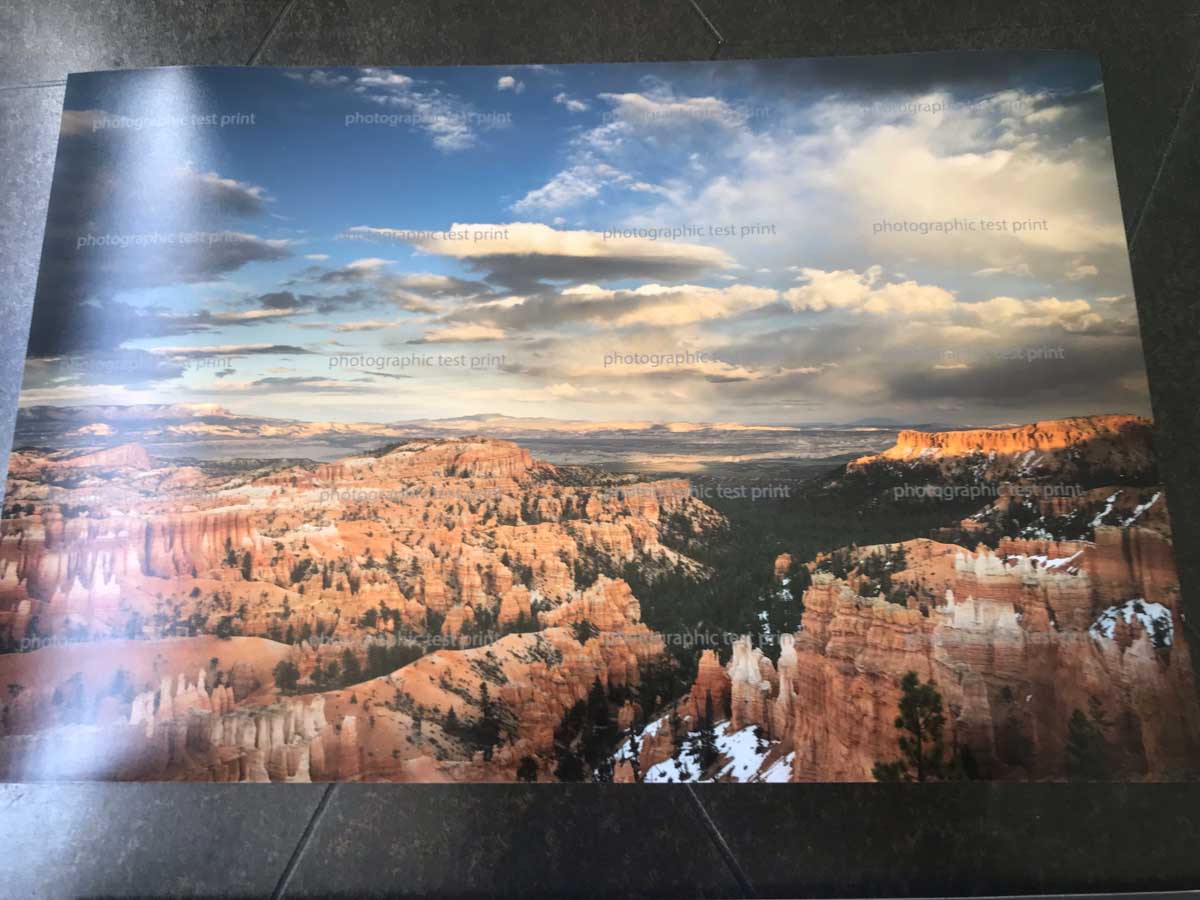 This Fuji Crystal Archive DPII matte print by WhiteWall has excellent color and shadow detail. I much prefer the matte surface here as I can focus on the content and not the surface material. This print didn't knock my socks off though as I found it lacking in contrast particularly in the sky compared to the other test prints. When I go to Soft Proof this in the future I'm going to do some luminosity mask work in the sky for print. This is a solid print for sure and good enough for a "real print" but it takes a little bit more work to make this one sing.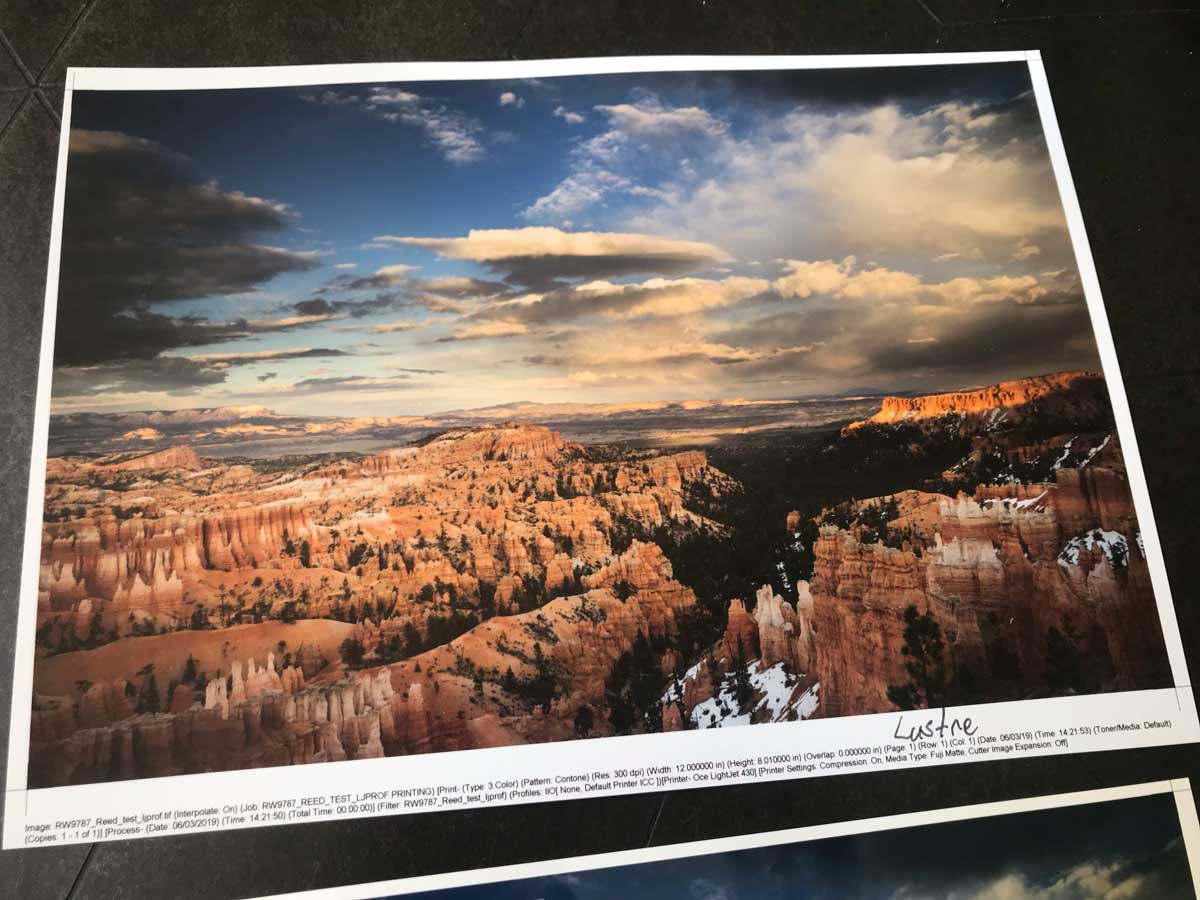 The FCA Lustre print by Reed Art & Imaging was once again my least favorite print on this round of test prints. Overall it's just a darker print with muddier details. I liked the lustre surface however as its a happy medium between the glossy and matte surfaces. The paper has character and felt robust in my hands.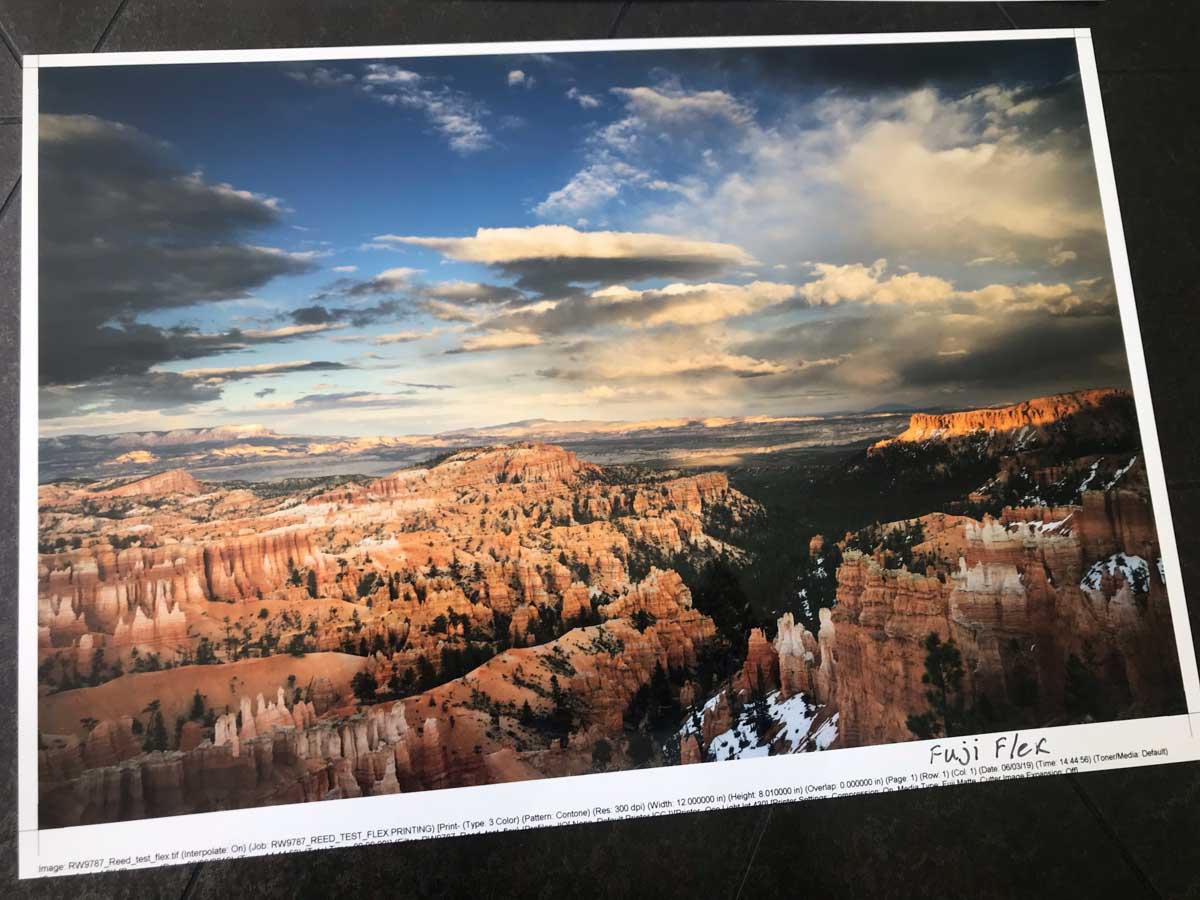 This was the straight print on Fujiflex with no laminate which is ideal for face mounting on acrylic. If going with a Flex print with laminate I would choose the matte laminate every time. It just looks so much classier than gloss and the best way to enjoy the actual photo in my opinion. From what I've seen offered by other photographers it would appear that glossy is more popular but I don't really understand the fascination with glossy surfaces to be honest. Sure glossy surfaces can appear to be more contrasty but what's the point if you can't even see what's underneath the surface outside of a well-lit gallery situation? Therein lies the rub. Glossy can look good if you have a controlled lighting situation ala. Peter Lik style gallery lighting. But aside from that type of setting glossy surfaces simply do not make for a good viewing experience. Do museums and mainstream art galleries display glossy prints? Generally, no.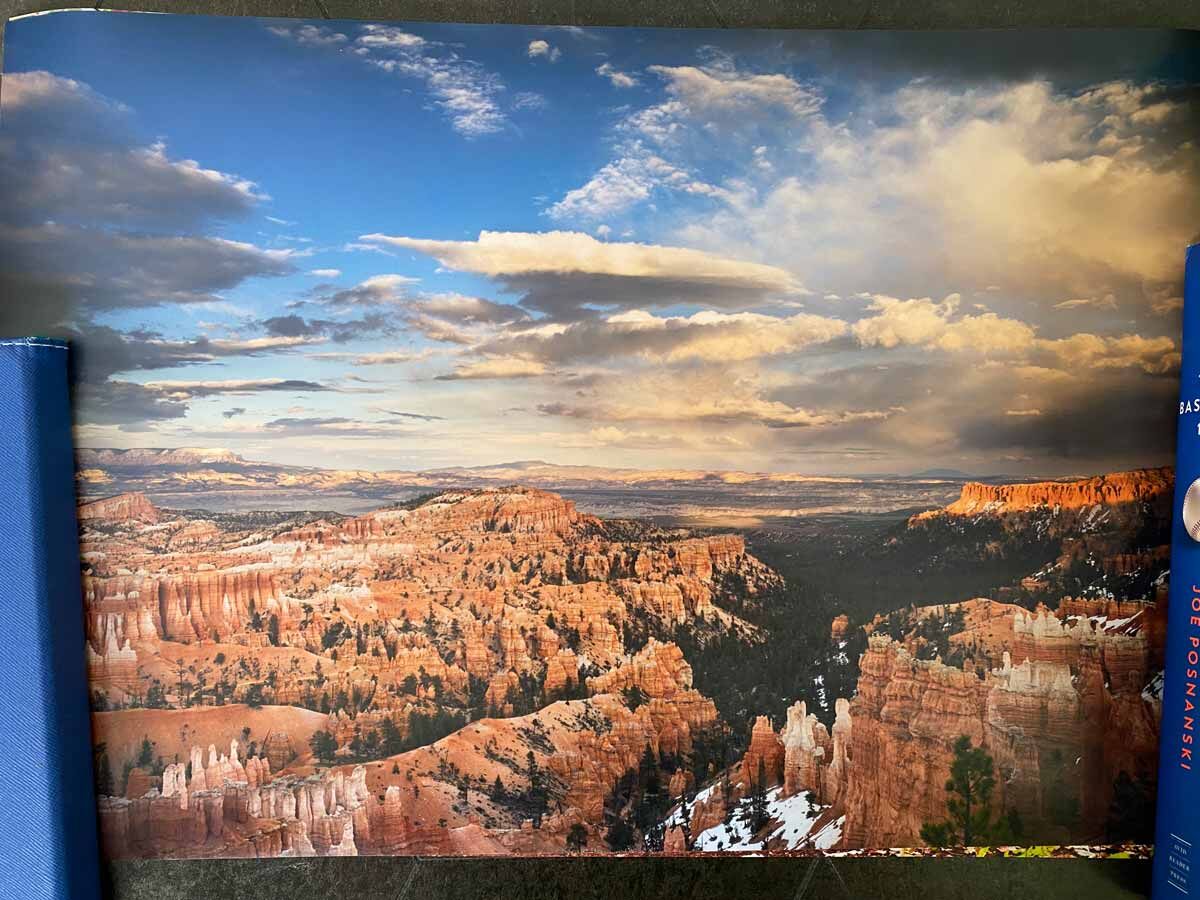 This Fuji Matte print by Artisan HD looked pretty similar in terms of color as Whitewall's Fuji prints. The shadow detail in the trees was pretty lacking however as it suffers from a lack of contrast and strong blacks to hold it together. I prefer the Fuji Flex prints to this one.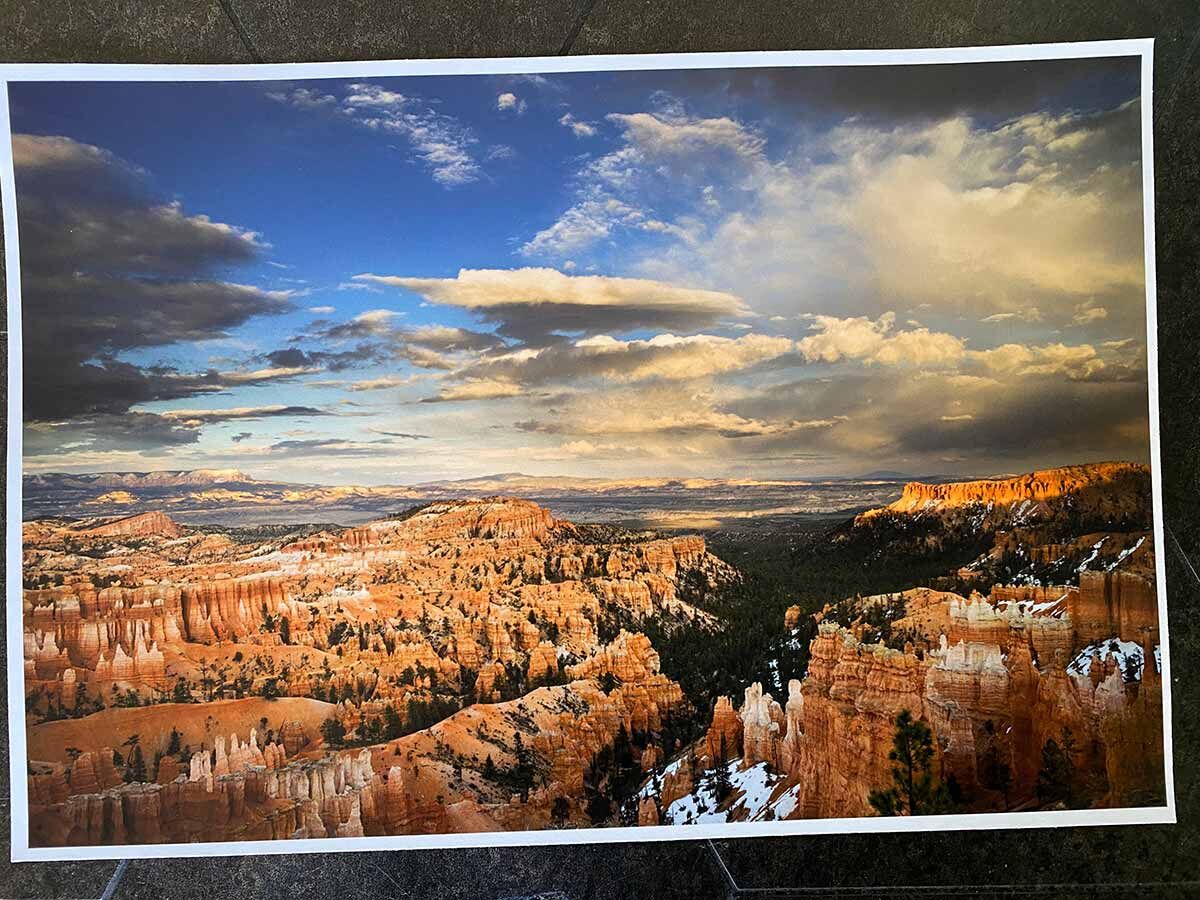 The blues in the sky really come alive on this Canson Infinity Platine Fibre Rag print while retaining the warmth from the hoodoos. The blacks look great and have at least as much shadow detail as the Fuji Flex prints though it might be hard to tell from looking at this on the web. This print arguably looks better than my actual file.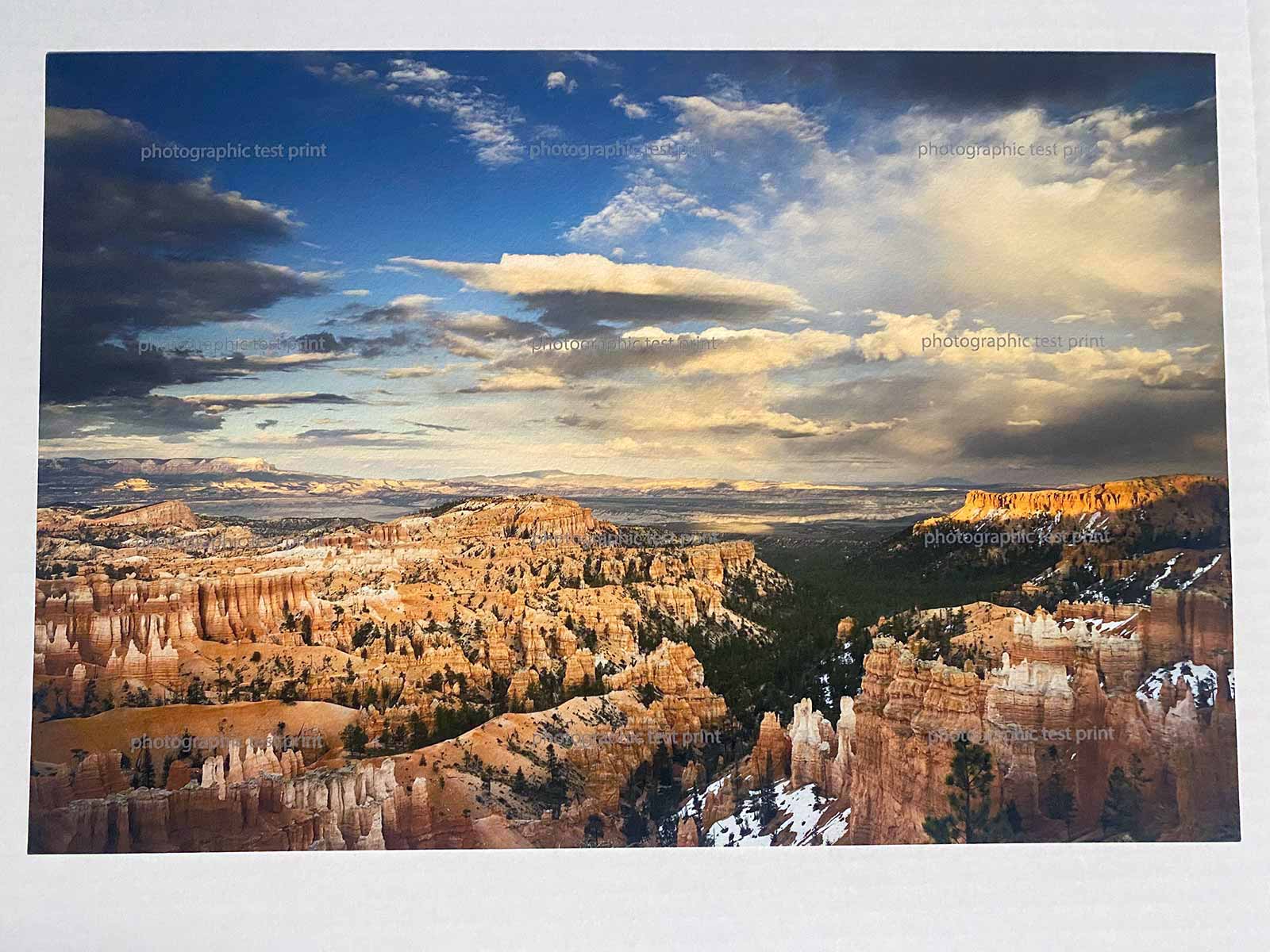 Every paper has its strengths and weaknesses. The watercolour texture of Canson Infinity's Aquarelle Rag does not work for me at all for photos like this with a lot of smooth tones such as landscapes with sky. The clouds almost look pixelated due to all the textures in this print. The colors and shadows look good in this print but I can't get past how visually distracting the textures are here. The textures were largely obscured in the Land of the Giants example due to the busy forest scene.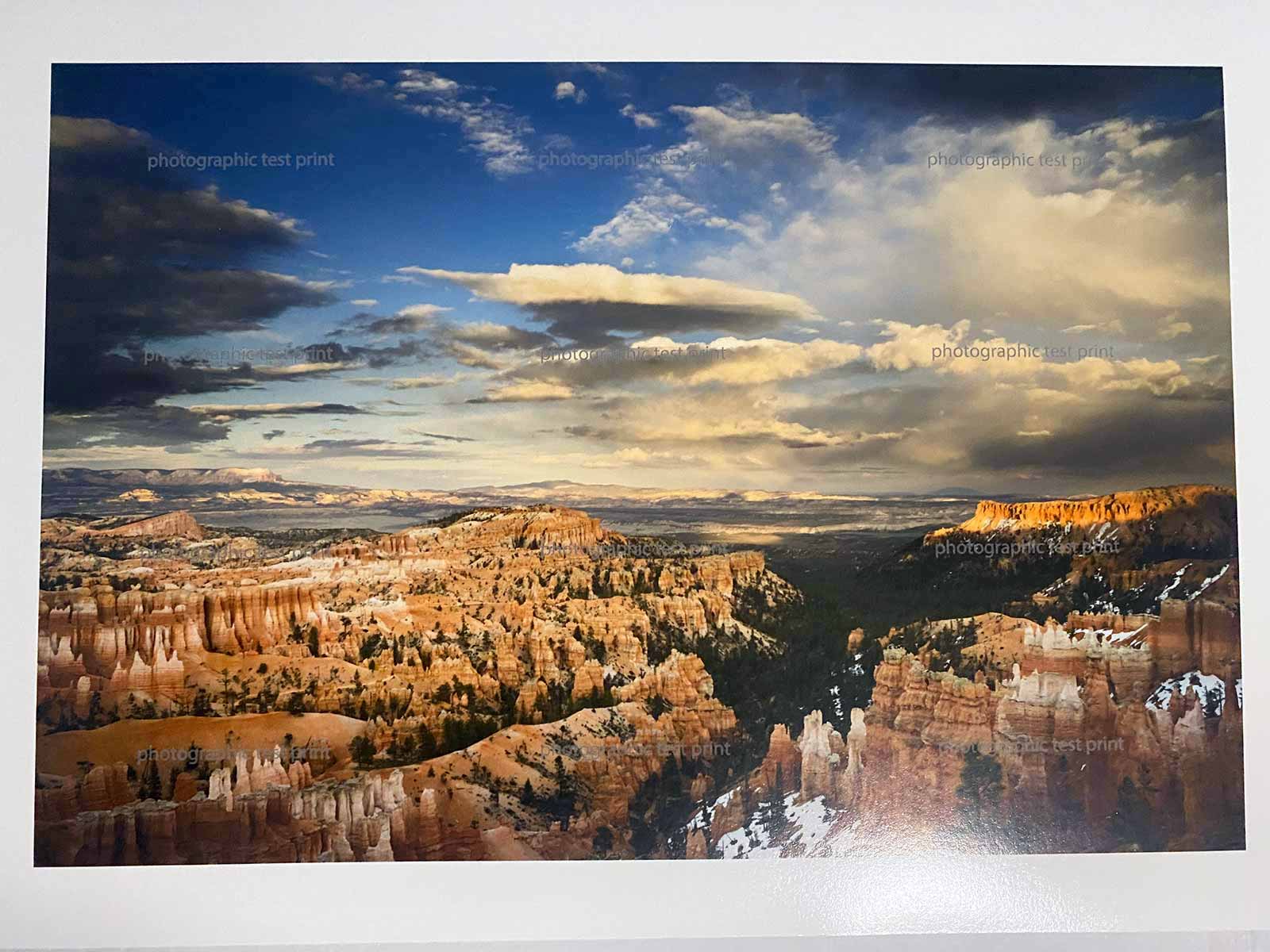 I liked Sunset Point printed on Baryta Prestige II. I feel like this paper is ideal for landscape photography. There was good contrast here. The colors were pretty accurate compared to the original file. While I'm not a fan of the finish when it's behind acrylic framing it wouldn't matter. This is arguably my favorite print of this photo.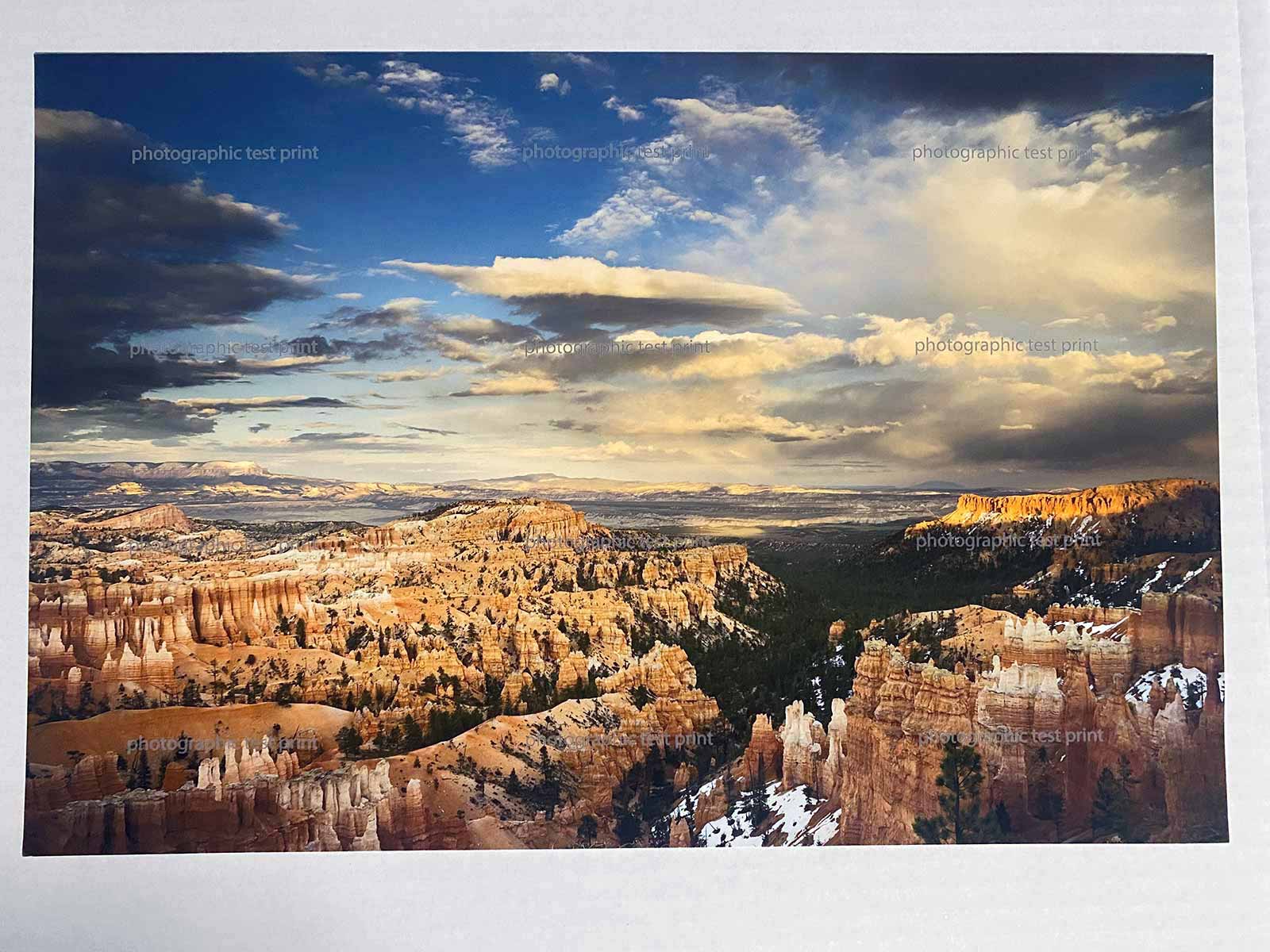 Rag Photographique worked better on Sunset Point than Aquarelle Rag did since this is a smooth textured paper. It has the least amount of contrast of the Canson prints I've tested; the photo doesn't pop the way that some of the other prints I've done here. However, this is probably my 2nd favorite print of Sunset Point after Baryta Prestige II because the colors are accurate and it doesn't have the distracting textures of the Aquarelle Rag.
Test Prints Round 3: Lonesome Cypress Tree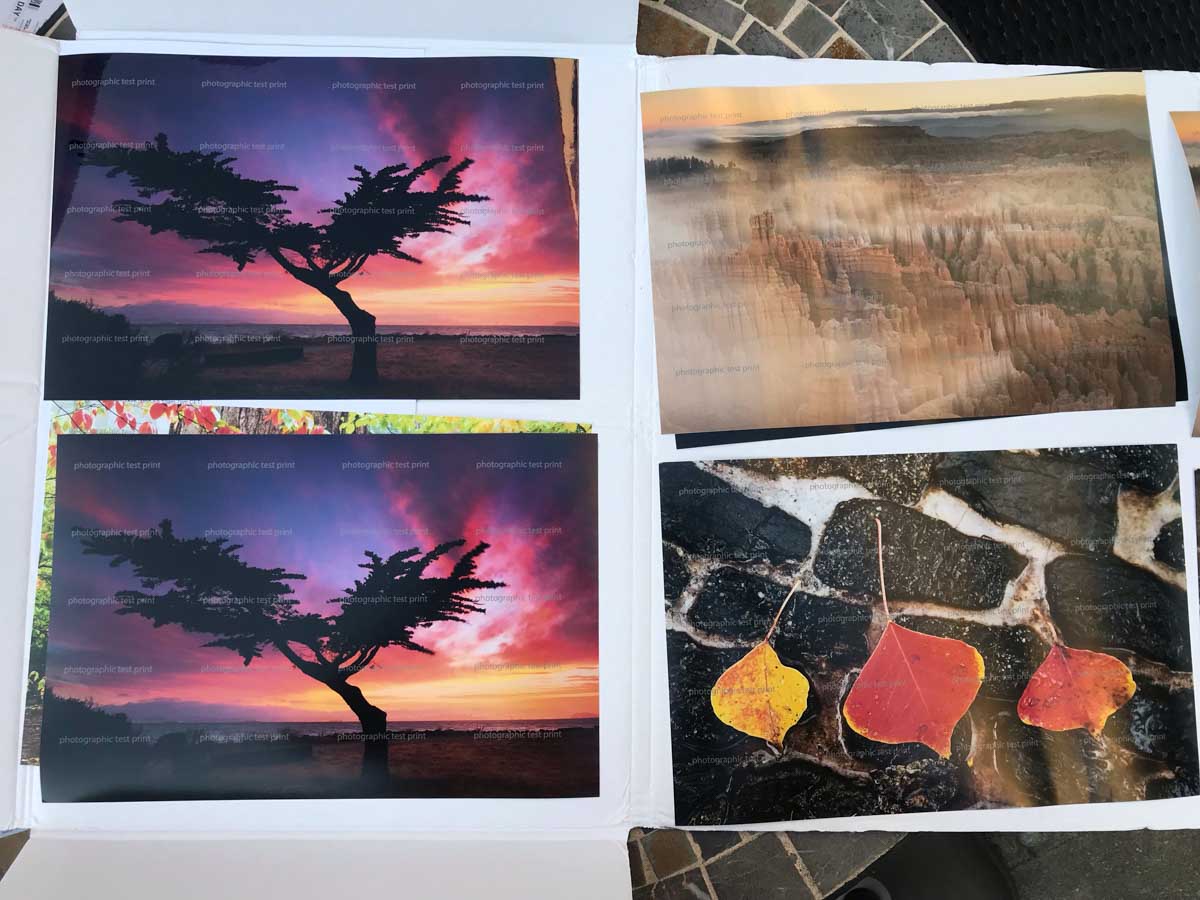 I'll cover one last round of test prints for this article. You can see the gallery at the end of this post for more test prints that I've been working on. For these test prints I chose to print "Lonesome Cypress Tree" from Alameda. This is one of my favorite local landscape photos. This print is a challenging file to print from due to the extreme contrast of the sunset. The reds in particular are something to take note of.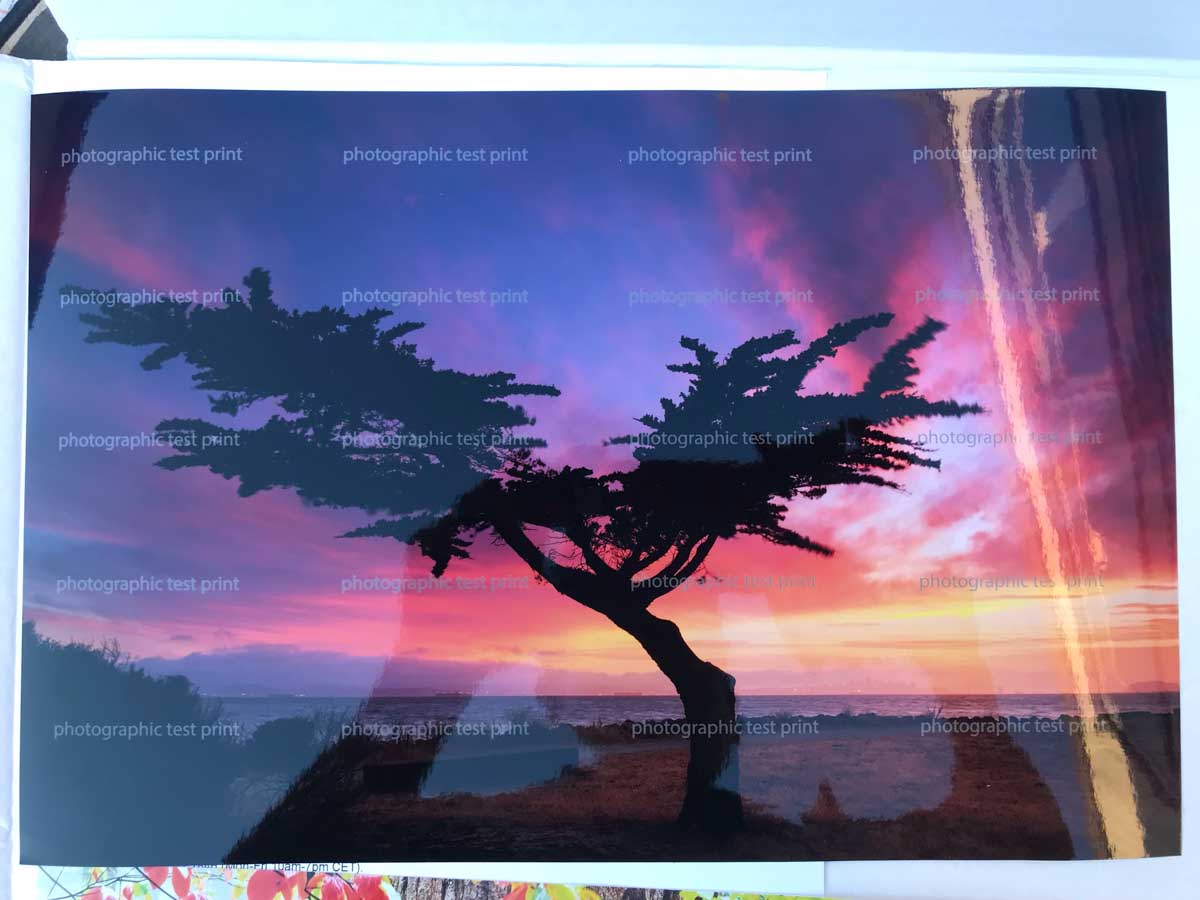 Fuji Crystal Archive Maxima paper according to the manufacturer has 10% more maximum density for richer blacks, 21% more color space volume for color saturation and supposedly lasts longer than other Fuji papers due UV protective qualities. I've tested this paper twice so far and would agree about the color and dynamic range. It's certainly a notch above the DPII papers and to my eyes closely resembles Fujiflex. The difference is that Maxima is an actual photo paper while Flex is a polyester base.
This FCA Maxima print by WhiteWall had excellent color contrast and saturation as advertised. It's a very dynamic looking print under the right lighting conditions. I say that because as you can see here it is a highly-reflective paper. There is a matte option mounted on Aluminum DiBond that I will be testing shortly. If that goes well I can see myself offering this. The one common theme I've seen on every Fuji print in this article and in general is that they can't handle the full range of tones in red. Try Soft Proofing a photo with deep reds like this in Photoshop using a Fuji ICC profile from any of these labs and you'll see the same thing across the board. Some papers appear to do a slightly better job (Fujiflex and Maxima) but just know that there will be a slight variance between the master file and what you get back in print. The Maxima print looks great overall though aside from the extreme gloss.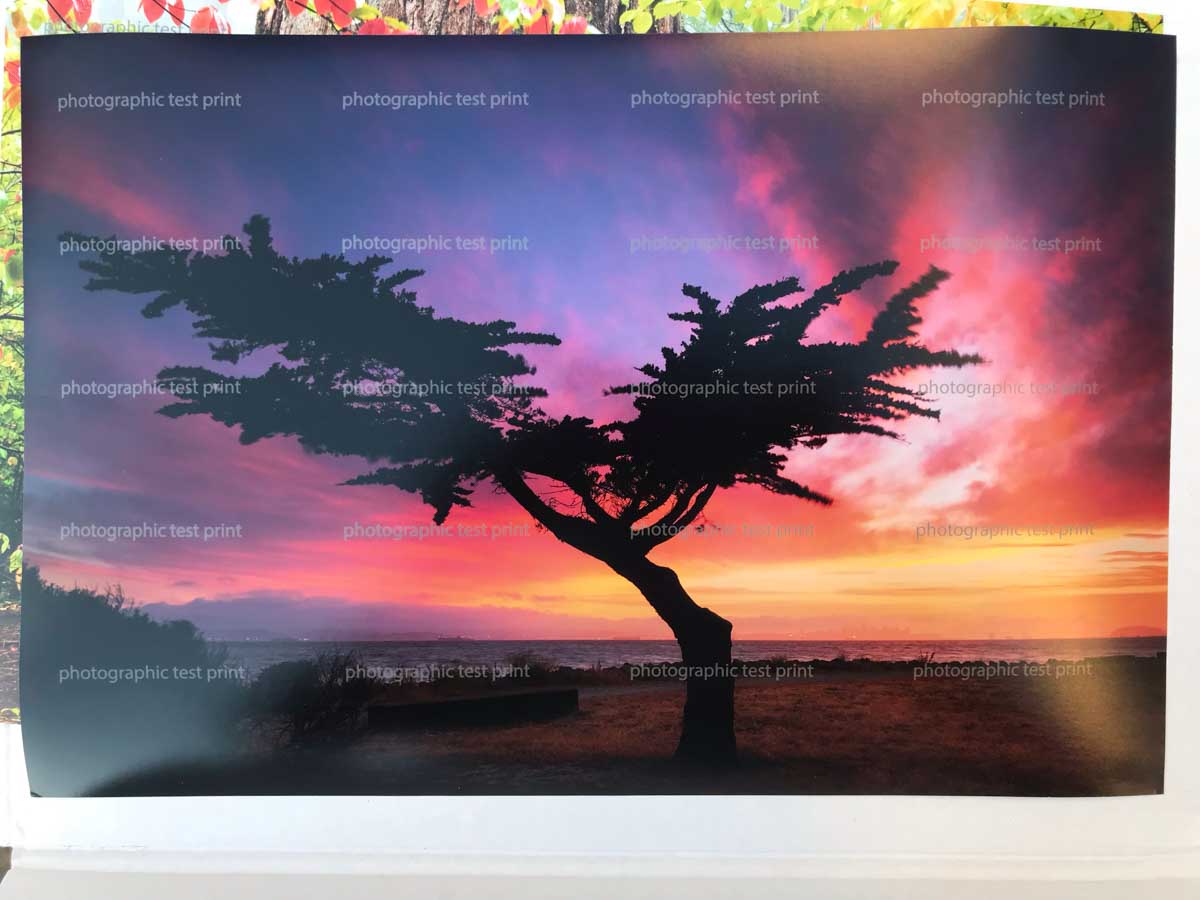 This Fuji Crystal Archive DPII Matte print by WhiteWall looks good too. I believe this print might be slightly warmer than the FCA Maxima print but I'm not 100% sure. The shadow detail and highlights were not quite as good as the Maxima print but I really liked this print. I wouldn't hesitate to print this one again on this paper.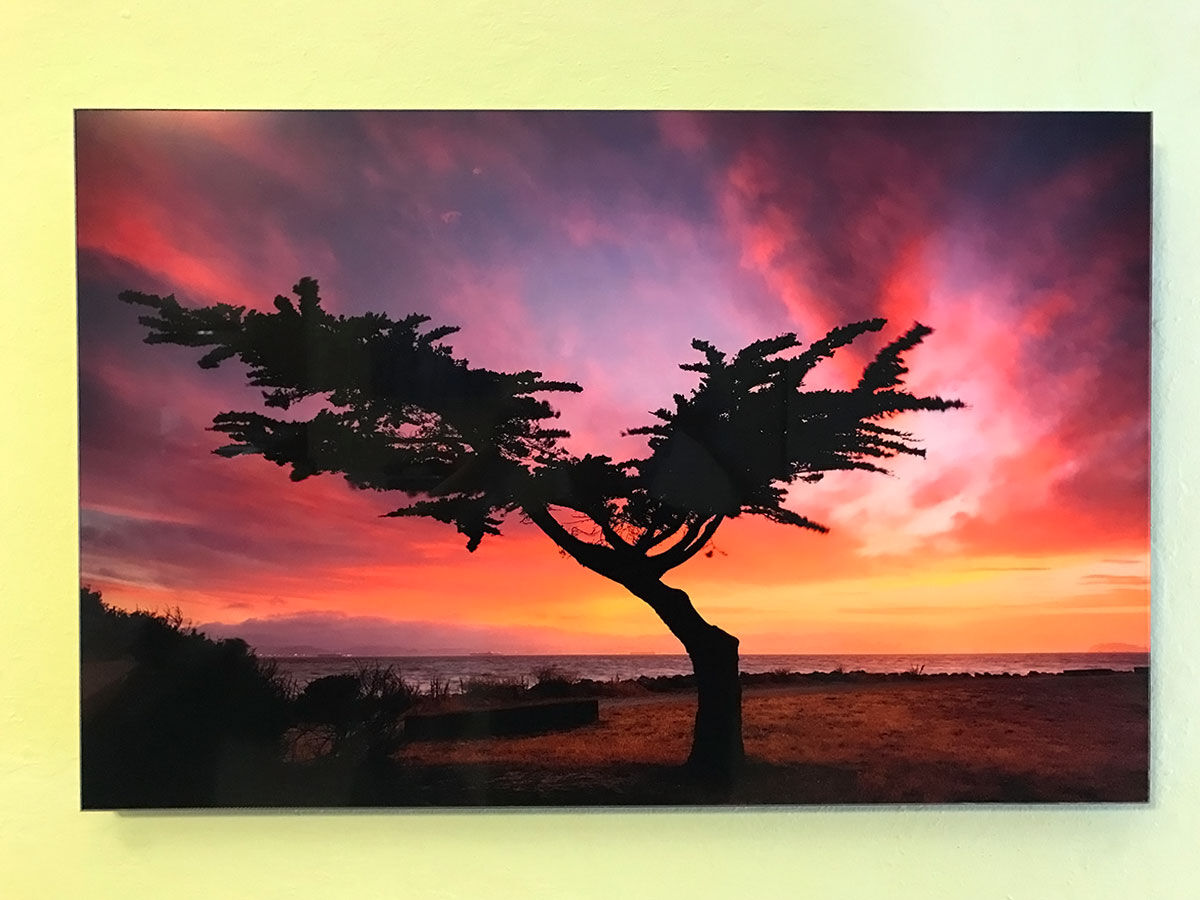 Ok and last but not least we have the Lumachrome HD TruLife® Acrylic Face Mount from Nevada Fine Art Printers. This is my favorite print from my personal collection. I'm not sure where to start with this but you know that issue I've had with the reds on Fuji prints? That problem doesn't exist in this Lumachrome print. This was the only test print in this article that displayed the full range of red from my print file and then some. Lumachrome prints are not subtle however so they work extremely well for certain types of photos; more of the saturated landscape variety. The print profile adds a bit of contrast so some adjustments might be needed depending on what you're trying to go for in the end product. The other major difference that sets this print apart from the others is the way that the colors react to direct light. There is a certain magical glow and luminance from this print that doesn't exist in the other prints. If your objective is to impress people then this would certainly be my print medium of choice.
The goal of this exercise isn't to test print every photo that I have in my collection. I did the math on that and if I were to test a 16x24 Lumachrome acrylic face mount for every image in my collection that would cost me about $2.5 million dollars. The goal of my test prints is to look for certain photo characteristics and compare how different print labs handle the characteristics on different print mediums. All of the labs are capable of doing great work. It's a matter of learning about how to optimize the print files for each lab / paper combination. Using a new lab is kind of a big deal if you're selling your work so I highly recommend test printing and evaluating with a critical eye. There is no such thing as a perfect print. What the goal is however is to make prints that convey the vision of the artist and create a positive emotional response in the viewer.
I have friends asking me sometimes how to make prints and where to get their prints done. I've suggested all of the above mentioned vendors at one time or another but that doesn't mean there aren't others out there doing equally as good of work. I've printed from a bunch of different labs over the years as well as test printing on my own. I don't have a preference to be honest. It just depends on what I need for that particular situation. The real key is in knowing how to produce the right type of file for your printer. And if that sounds like too much work for you then you can always pay the labs extra to do that work for you but if you want to consider yourself an artist then why wouldn't you take the time to learn for yourself so you can fully realize your own artistic vision rather than rely on others to try refining your vision for you?